If you were out of town over the August long weekend, then you missed a hell of a few days across the Albertan wrestling scene. A shocking return capped off one of the most entertaining RCW shows in months, Monster Pro Wrestling crowned a new pair of tag team champions and the Prairie Wrestling Alliance continued to showcase why they're not only one of the premier promotions in independent wrestling, but a group of premier people, too.
It's the latest edition of Last Week in Alberta Wrestling, your source for the most up-to-date information in the Alberta independent scene!
PWA Retribution to Host Fundraiser for Long-Time Fan
The Prairie Wrestling Alliance will make their Edmonton return from hiatus on August 24th, and the promotion is kicking off their second half of 2019 with an outstanding initiative in benefit of a long-time supporter.
PWA Retribution will not only feature the stellar action that fans have grown to know and love, but will also feature a silent auction with all proceeds directed towards long-time PWA fan Kay Johansen. As detailed in their announcement last Friday, the promotion is currently reaching out to local businesses and wrestling fans for donations for Retribution's silent auction.
For those looking to get involved, contact PWA CEO Kurt Sorochan through any of the PWA's social media channels.
King, Cyrus Win Renegade Memorial Tag Team Tournament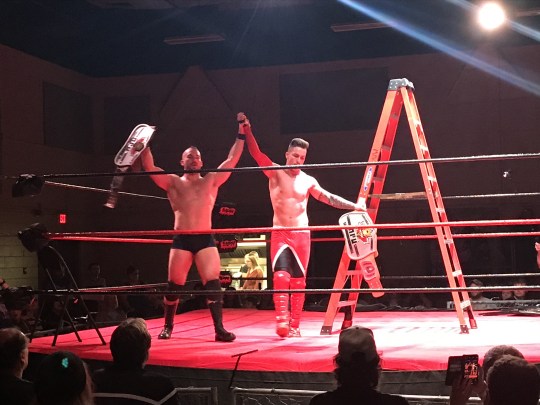 While the night may have begun with the OG Cat's Meow as tag team titleholders, here's a pair of new top dogs in the MPW Tag Team Division after Saturday night's Renegade Memorial Tag Team Tournament.
Rich King and Kid Cyrus are your new MPW Tag Team Champions after defeating the aforementioned Cat's Meow ("Nasty" Nate Nixon/Kato) and the Tattooed Terminators (Massive Damage/Wrath) in the tournament's traditional TLC finale. The pair earned their way into the finals following a victory over MPW Provincial Champion "Beautiful" Blake Kannon and Sultan Singh in the first round of the tournament.
Said King on the victory:
"It was the biggest night of my professional career so far. Not only did Cyrus and I get our first win as a team, we won our first Tag Team Titles, the Renegade Tournament and a TLC match all in one go. It was surreal, I had to sit there for almost 20 minutes to decompress and take in what just happened."

"The Tables, Ladders and Chairs match was one of the most brutal things I've ever been a part. Going against established teams like the Tattoo Terminators and Cats Meow made us huge underdogs, but that's where a team like us thrive. Cyrus and I are extremely competitive athletes, which can make us clash at times and but also pushes us to be the best. I wasn't expecting to be in a tag team, but we can both learn a lot from each other and the success we had Saturday night shows that the best is yet to come."

"I look at a team like Lumberjack Larry and Mitch Clarke who won last year and all the success they've had since then, both as a tag and in singles competition, and think this is just the start of some huge things for both myself and Kid Cyrus."
Click here for a full recap of the Renegade Memorial Tournament
Major Return, Stellar Action Highlight RCW Crossfire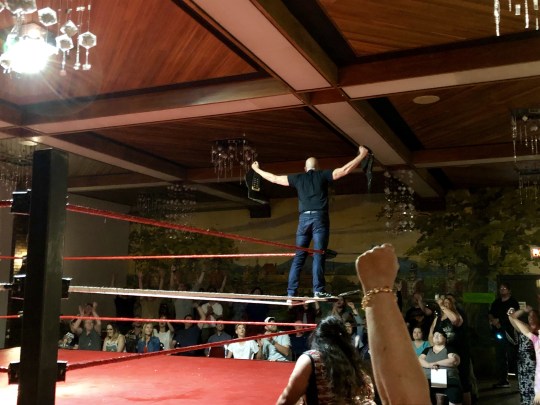 Fans who attended August 3rd's RCW Crossfire were treated to an outstanding night of professional wrestling that featured a little bit of everything; if brutality was is your thing, the TLC main event was one for the ages. If you're looking for top-notch tag team wrestling, the tag team #1 contenders match would be right up your alley. The evening's opening triple threat was as good an opener as you'll find in professional wrestling, and Chris Perish and Big Jesse Youngblood tore the house down in an instant classic. Shocking returns? You've got them. Weapons? Done. Truly, it was an evening that any level of pro wrestling fan would enjoy.
Said Dylon Stone on his defence of the Alberta Championship:
"Even before the opening bell bodies, were sent flying into the crowd…. and they never took their foot off the gas the entire 20 minutes. It set the tone for a great night."
Click here for a full recap of RCW Crossfire.
Results:
Kid Cyrus/Rich King def. "Beautiful" Blake Kannon/Sultan Singh
The OG Cat's Meow ("Nasty" Nate Nixon/Kato) def. King B/"Dangerous" Danny Evans
High Octane (Pro Payne/Ajax) vs. Dad Bod Squad (Rick Jules/James Crowder) - Double Countout
Tattooed Terminators (Massive Damage/Wrath) def. Mitch Clarke/Lumberjack Larry Woods
MPW Women's Championship Match: Phoenix© def. Sexy Samantha
MPW Heavyweight Championship Match: Headline Shaun Martens© def. Dalsano/"The Cheetahbear" Jude Dawkins
Renegade Memorial Tag Team Tournament Finals (TLC Match): Kid Cyrus/Rich King def. The OG Cat's Meow© ("Nasty" Nate Nixon/Kato, Tattooed Terminators (Massive Damage/Wrath)
Alberta Championship Match: Dylon Stone© def. Nite/Son of Irish
KOTA def. "The Profane Profit" Dante
Barricade/Dean Richtor def. Jack Pride/Travis Cole
RCW Commonwealth Championship Match: "The Viking Lord" Vince Austin© def. Jordan Aries
Chris Perish def. Big Jesse Youngblood
RCW Canadian Heavyweight Championship Match (Tables, Ladders & Chairs):  Heavy Metal© def. Brice "The Slammer" Sova
Upcoming Shows:
Monster Pro Wrestling • MPW Lloydminster • Lloydminster, Alberta • August 8
Real Canadian Wrestling • Deadly Games • Calgary, Alberta • August 9
Prairie Wrestling Alliance • Summer Heat • Calgary, Alberta • August 10
Last Five:
Last Week in Alberta Wrestling: July 31 - August 6, 2020