Welcome to the very first Rusev Day of the new year!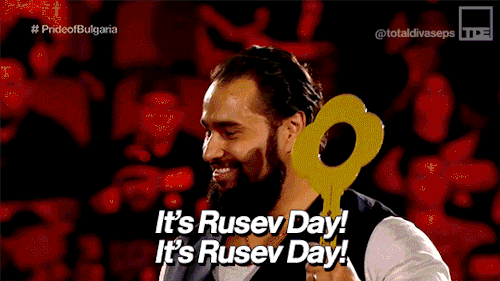 Hopefully, everyone's recovered from their New Year's headaches and are primed for what promises to be a great Smackdown Live. AJ Styles faces off against Sami Zayn, Breezango gets their long-awaited rematch with the Bludgeon Brothers, and I'll hedge my bets that it will NOT include a CM Punk return.
We'll skip the preamble - you're hungry for wrestling, so here we go! I'm @SpennyLove, and welcome to your official Smackdown Live preview for tonight!
Last Week's Smackdown: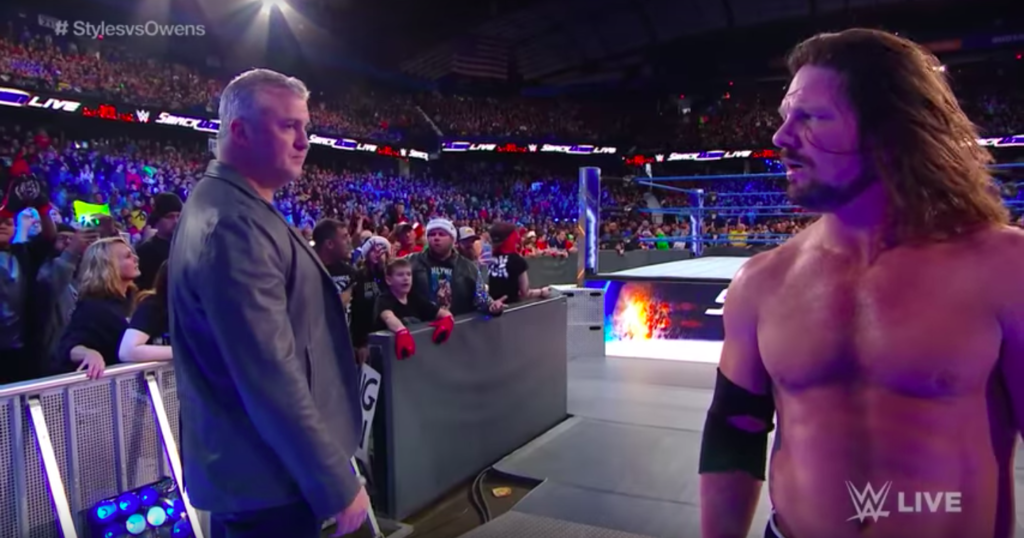 The final Smackdown Live of 2017 was again focused on the tension between Daniel Bryan and Shane McMahon. With a first hour of the show commercial-free, the pairing were given a considerable amount of the show, and there were some major impacts to not only the main event scene, but to Smackdown Live as a whole. Their first segment featured an interesting conversation between the GM and the commissioner; from the segment's outset, Shane O'Mac routinely criticized Bryan's decision making on the show, and staunchly defended his father - WWE CEO Vince McMahon - as a good man.
*Narrator: He was not a good man.*
It was the first real step towards the dark side we've seen from Shane McMahon. While his feud with Kevin Owens and Sami Zayn has the commissioner bent on destruction, it's always been from a righteous point-of-view. Owens and Zayn have been thorns in Shane's side since their move to Smackdown, and at the very least McMahon's actions could be explained. It's not like they ever affected anything else, right?
Wrong.
Tuesday's main event was by far the best Owens/Styles match we've seen. While I still expect more from two of WWE's top workers, this was a solid match to close out the year. However, it's the finish of the match that has most WWE fans intrigued. As Shane approached the ring to remove Zayn from ringside due to Sami's interference, he caused a distraction that resulted in Owens pinning the WWE Champion. It was the first true example of McMahon's quest for revenge expanding beyond his own circle. The look Styles gave McMahon says it all - I haven't seen Styles that angry at Shane since WrestleMania. It was a major step forward for the program, and one that has me interested in tonight's events.
Quick Hits:
Ruby Riott defeated Naomi in singles action. Following the match, the Riott Squad beat down the former women's champion, as well as Charlotte Flair. They looked primed to strike again, before a reunited(?) Welcoming Committee ran them off. All in all, I would have preferred a commercial.
Bobby Roode and Jinder Mahal punched their tickets to the semi-finals of the United States Championship tournament.
Breezango battled the Bludgeon Brothers in a rematch requested by the Ascension. After the Fashion Police lost another match - handily, I may add - to Harper and Rowan, the Ascension scheduled yet another rematch for their best friends and the Brothers of Bludgeon.
State of the Belts:
While not a title match, WWE Champion AJ Styles will face off against Sami Zayn in tonight's main event. For my money, these are two of the top five workers in WWE, and this should be a fantastic match. We'll likely also see some sort of interference from Kevin Owens this week as well; will we see Shane McMahon further escalate the conflict, or further dig the hole he's creating for himself with the WWE Champion?
After Bobby Roode and Jinder Mahal punched their tickets to the semi-finals, we'll have two more matches in the United States Championship tournament to determine a new titleholder. Tonight, Xavier Woods faces off against Aiden English, while former tag-team partners Mojo Rawley and Zack Ryder square off. While the former Hype Bros match doesn't interest me, both Woods and English have sold me on their match through their social media battles. If you haven't, check it out - both guys have been fantastic, and have given me something to look forward to.
#English2018 pic.twitter.com/B9Hml44PRd

— Aiden English (@WWEDramaKing) December 30, 2020
Much like RAW, it doesn't seem like Charlotte Flair will defend her title before the Royal Rumble, but rather will fend off attacks from the Welcoming Committee and the Riott Squad for the next few weeks. The women's division is in a holding pattern since their "historic announcement", and while I'm thoroughly excited for the first-ever women's Royal Rumble, I don't think we can get there fast enough.
Chad Gable and Shelton Benjamin are the new #1 contenders for the Usos titles, but there's been no follow up since last week. Expect to see some frustrations from the other tag teams in last week's Triple Threat match as they try and make their way into January's title match.
Here and There:
Speaking of tag teams, how fantastic is Smackdown's tag division? Not only are they able to carry a stellar main-event scene, but they're able to weave secondary and tertiary storylines together. Feuds between the New Day and Rusev Day, as well as the Breezango/Ascension/Bludgeon Brothers stories make for great television - something that RAW is unable to do with a full extra hour at it's disposal.
Here's just a friendly reminder that Mike Kanellis is still, technically, a WWE wrestler. There's no point to this, but figured most of you had forgotten.
SPOILER ALERT, but Becky Lynch returned to Smackdown Live live events in Detroit last week. With filming wrapped up on the Marine 6, when will the Lass Kicker return to our screens? My guess would be sooner rather than later, but who knows.
Three Things to Watch For:
More often than not, Tye Dillinger makes his way onto this list, but this week it's for a different reason. Throughout WWE's live events throughout the holidays, it's been noted by fans that Dillinger seemed to be working a little more heel than usual. It first started with a cheap shot on Sin Cara after their match, and was followed by rumours of Dillinger trying to shut down the "10" chant he's famous for. Is a heel turn in the works for the Perfect 10? While I hope not, it would at least get him back on our television screen.
We've officially reached day 13 of #ZigglerWatch - when will the Showstopper make his return to WWE, if ever?
It'll be a common theme, but as of now Smackdown Live only has two confirmed participants for both the men's Royal Rumble. Will we see anyone else confirm their participation tonight?
There you go, Win Column'ers! You watching? As always, feel free to give us your opinion in the comments section below, or tweet us at @WCSportsCA!
WWE: Last 5

Smackdown Live Preview: January 2nd