Laredo, Texas is the scene for tonight's Smackdown Live event; we're only two weeks away from the Royal Rumble, and there's still plenty of work to do in the build. Tension still lingers between GM Daniel Bryan and Commissioner Shane McMahon, and there have to be issues with Kevin Owens and Sami Zayn after last week's match, as well.
I'm @SpennyLove, and you're reading the official Win Column Sports Smackdown Live preview!
Last Week's Smackdown:
Shane McMahon is kind of a dick, you guys.
While WWE has done all it can to build Daniel Bryan as the one likely to turn heel, I'm still of the opinion that the youngest McMahon is going to the dark side. Look no further than Smackdown's main event last week; not only did he book Kevin Owens and Sami Zayn in a handicap match, he restarted the match not once, but twice to ensure that the best friends would come out on the losing end. It worked, but this storyline is getting old, quick. It takes a lot to make me sick of Shane McMahon, but here we are. I feel like we're in a holding pattern until the Royal Rumble, or (hopefully) next week where we may get a major development. I still don't understand why they've made a handicap match; perhaps that changes?
Either way, get on with it.
The Rest of the Show:
Chad Gable & Shelton Benjamin cut a promo on their Tag Team Championship match loss. Benjamin was truly, truly awful here. Gable was a delight.
Mojo Rawley defeated Zack Ryder to advance in the United States Championship tournament.
Breezango defeated Rusev Day
Becky Lynch defeated Ruby Riott via Dis-Arm-Her
The Bludgeon Brothers bludgeoned the Ascension.
State of the Belts:
The United States Championship tournament continues tonight, as Bobby Roode takes on Mojo Rawley, while Xavier Woods faces off against Jinder Mahal. Woods has likely been the highlight of the tournament thus far; he's using his first chance to shine as a solo star and running with it. His campaign-style videos on social media have been fantastic, and he's easily promoted his matches the best of the four men left standing. However, I don't see him defeating Mahal here; the Maharaja is coming off a WWE Championship run, and I do see him making it to the tournament finals. The same can be said for Roode; while Mojo has done some of the best work of his career recently, I can't see him losing to the former NXT champ. I'm predicting a Bobby Roode/Jinder Mahal final, with Roode winning in the end.
Unlike the U.S. Championship, the Smackdown Women's Championship has been completely absent from Tuesday night's. While it can be explained with the women's rumble match coming up, it would be nice to see it focused on a little more. It's felt like an afterthought since Charlotte Flair claimed it, and frankly has been a disappointing reign.
The Hardcore Championship…wait, never mind. A man can dream.
Here and There: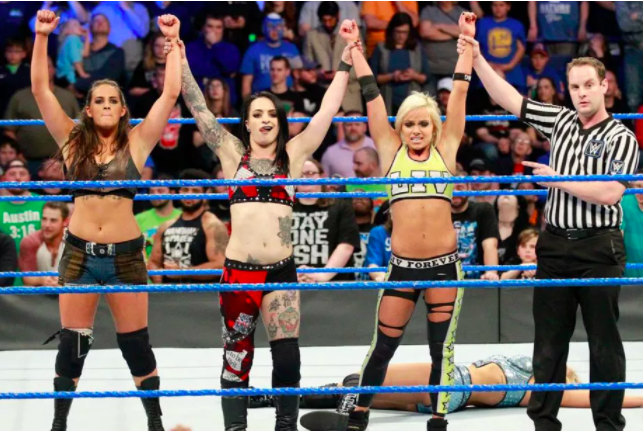 The Riott Squad faces off against yet another iteration of Charlotte Flair, Naomi and friend - this time, being joined by the recent returnee Becky Lynch. Much like the main event scene, we're spinning tires here, people. Let's just get back to making history.
The dream match that I never knew I wanted happened, as Rusev Day battled Breezango last week - with the Fashion Police inexplicably winning! While I always hate to see Rusev take a loss, it was nice to see Tyler Breeze and Fandango regain some legitimacy after their battles against the Bludgeon Brothers. Smackdown Live has such a rich tag-team scene, and this is only further proof. Currently, there's SEVEN (!!!) teams with active storylines, and all I have to say is bravo.
The WWE Mixed Match Challenge starts tonight on Facebook Live after tonight's episode; there hasn't been much mentioned of it on the TV shows, but I wonder if that changes tonight to promote the event? I'm genuinely excited; I'm thrilled with most of the pairings, and it's an interesting concept. Will you be tuning in?
Three Things to Watch For:
#DolphWatch has now reached day 28. We (continue to) wait.
Due to Shelton Benjamin's awful promo from last week, the Smackdown Tag Team Championships are relegated to the bottom today. Here's to hoping that this week is more Usos, less bad promos.
Outside of Smackdown Live, Ricochet officially was announced as a WWE signee today. With more names rumoured to be on the horizon, who do you think will be heading to NXT?
That's our show, WWE fans! Are you watching tonight? Let me know your thoughts in the comments section, or at @WCSportsCA!
WWE: Last 5
Smackdown Live Preview: January 16th