NXT Preview & Predictions - Go Home Show
Jan 24, 2021
Another week, another NXT Preview for WinColumn Sports.
Well, Royal Rumble weekend is on the horizon. Philadelphia will be treated to the annual titular PPV, Raw, Smackdown Live, and a NXT TakeOver in 4 days.
Spontaneous trip to Philly, anyone?
While neither of the major brands build to the Rumble has been great, I would say the build to Philadelphia has been solid. Not great, but solid. I  feel like there will be one more match added to the card tonight: By match, I mean whoever Lars Sullivan gets to demolish for 8-10 minutes. Whether it's against Killian Dain or Roderick Strong, I expect to see him on the card. WWE.com is promoting "Will there be fireworks before TakeOver: Philadelphia?" which seems to confirm one more match that may be booked. Keeping any of the three guys mentioned off the card would be a mistake.
Especially Lars. 
That being said, I'm Win Column Sports @Parkman15Love , and here is what everyone looks forward too on their Wednesday Mornings: @WCSportsCA official NXT Preview!
Note: Spoilers are out there for these tapings, including here if you'd like to read! 
The Main Event
For the first time since Takeover: War Games, Velveteen Dream will be wrestling on TV - and for the #1 contenders spot! He got this opportunity by pointing out that Johnny Gargano only won due to the fact Dream wasn't able to wrestle Kassius Ohno. He also (correctly) pointed out that Johnny Wrestling didn't win it cleanly - he needed help from the Undisputed Era to take out Aleister Black, who he did pin. With Zelina Vega going to William Regal too, and Regal not disagreeing with anything she said, Gargano set this match up to prove to the world he's a deserving #1 contender.
Now, with Johnny out for redemption, he put his match with Andrade Cien Almas on the line against Velveteen Dream. Johnny Wrestling could have a great match with a mop, and we were all surprised with how good the former Patrick Clark is in the ring. He incorporates his character into his matches so well. Expect a great main event going into Philadelphia.
As a side note, how entertaining would Velveteen be as NXT Champ? And how good of a story would it be for Patrick Clark to rise to the top of NXT?
Other Announced Matches/Vignettes
No Way Jose will be in action tonight against Cezar Bononi, who (someone correct me if i'm wrong) does hold a win over Andrade Cien Almas. I'm surprised Cezar hasn't tried to enter the title match in Philadelphia. It'll be nice to see Jose back on our screens - he may never be a world champ, but you definitely need some relief characters on the roster.
TM61 gets the video treatment again this week. Last weeks segment was strong, as it's a good way to bring Nick Miller and Shane Thorne back into our memory without rushing them back to the ring. These two are extremely talented, but just didn't click as the top face team a while ago. This may be a better time for them, as they don't have to go up against D.I.Y as the top babyface tag team. As well, they were pretty white meat babyfaces before - the first video package helped establish their characters a bit more.
According to spoilers, Bianca Belair is scheduled to have a match tonight against legendary performer "Local Talent". Local talent may not have a great winning streak, but they're a longtime performer in the company: Local Talent is up their in total company time with Vacant (who is currently holding the Cruiserweight title). Expect a drawn out, competitive match.
And perhaps some interference from Vacant. 
The Title Scene
Women's champion Ember Moon now has a date with MYC runner up Shanya Baszler with the title on the line. This is a match that's extremely intriguing, as I don't know which way they'll go with it? Does Moon do the job to establish Baszler as a monster heel (and make the UFC Horsewoman look strong? It is rumored that another one is coming to WWE soon..). Or does Moon win here? Dirty ending to the match to keep the feud going? Let me know your thoughts!
The Authors of Pain have a shot to become 2-time champs this Sunday against Bobby Fish & Kyle O'Reilly. With Undisputed Era's tag team calling out the champs via promo last week, how will Akam and Rezar respond? Will Paul Ellerling respond with another promotion about pain and such? My money is against a long discussion with the current champs.
Finally, what will Andrade Cien Almas and Zelina Vega have to say about their title defense?
Extra Thoughts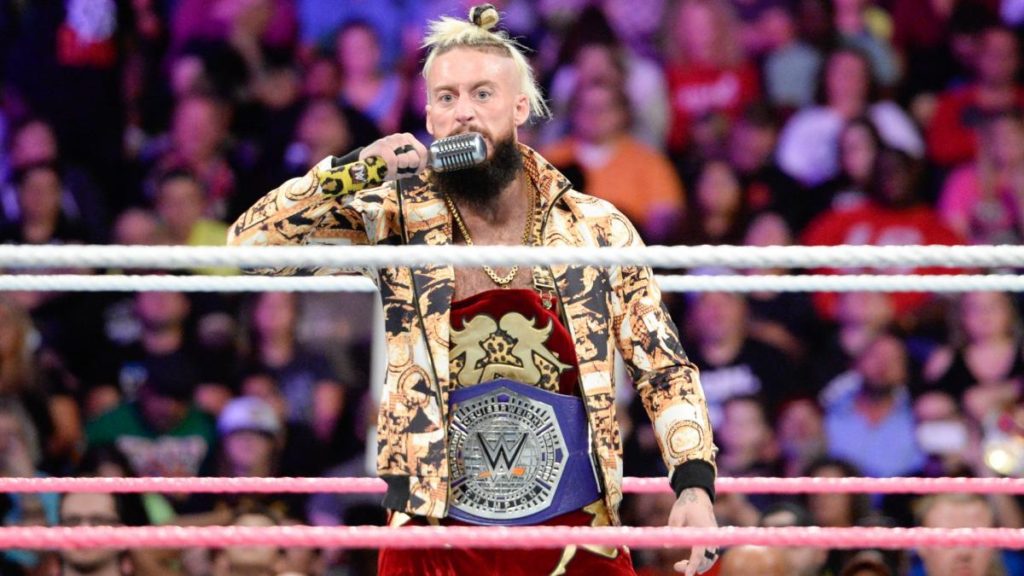 With Enzo Amore's recent release, it was good to see Lio Rush stay off Twitter this time around.
On the topic of Cruiserweights, do we see a promotion for the aforementioned Lio? Or will someone like Ricochet be called up to give 205 Live some legitimacy? I really hope not…
There are a ton of empty spaces on both Royal Rumbles. Who are we going to see from NXT? I think the Iconic Duo for sure on the Women's side. For the mens, I'm predicting a No Way Jose & SAniTy appearance.
We got to see the WWE UK Champion face off against the Impact Champion in 2018. It's a cool time to be a wrestling fan.
Speaking of Pete Dunne, it's a shame though we won't get to see the UK Championship defended this TakeOver. However, we may seem him on WWE TV soon….
Thats all from me folks! Will you be tuning in this week? And will you be watching TakeOver Philadelphia? Let me know @Parkman15Love or @WCSportsCA ! As always, its been a pleasure, and thanks for reading my NXT Preview!
WWE LAST 5:

NXT Preview - Jan 24, 2021 - Go Home Show