This is my first official article for Win Column Sports and I decided to come up with five things I would like to see happen this year in the WWE. If you enjoy the article, remember to follow me on twitter @thisisgillie for more wrestling articles and updates! Here we go!
5. Balor Club Push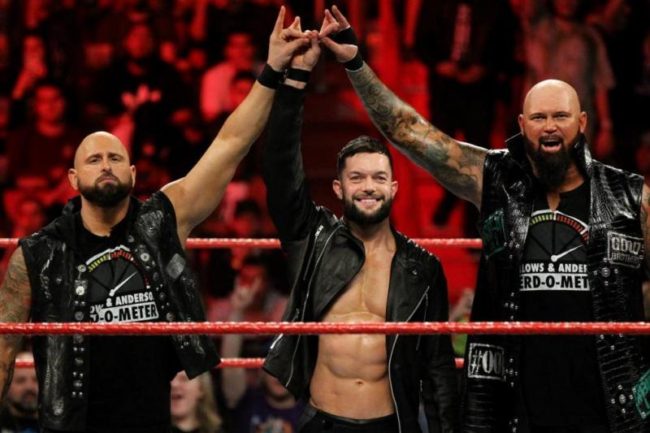 With the recent formation of the Balor Club, I hope WWE pushes them to their potential. Gallows and Anderson have been gravely misused (WWE shop commercials, really?) and Finn Balor has been lost in the mid card shuffle. With rumors of all three men going to Smackdown, they should go there and dominate from the get-go. Have Gallows and Anderson as the tag team champions with Finn Balor as the United States Champion, potentially even the WWE Champion. 2018 will hopefully be "Too Sweet".
4. Rusev Day Push
One of the most organic gimmicks that began in late 2017, it's fair to say that Rusev Day is over. Its funny, it's catchy, and most importantly it's made Rusev and Aiden English b0th extremely relevant. I hope WWE genuinely pushes this team with a potential championship win against The Usos at Wrestlemania. Can you imagine a stadium full of people chanting Rusev Day? It would make for a great Wrestlemania moment.
3. Nakamura vs Styles Wrestlemania Match
Nakamura has not transitioned well from NXT to the main roster. With some poor booking, a lackluster feud with Jinder Mahal, and a randomly thrown together team with Randy Orton, 2017 was not his year. However, that can all change this year if Nakamura ends up winning the Royal Rumble match. It would boost him right to main event, and given the history between him and AJ, a dream Wrestlemania match. Let Nakamura loose with the strong style, and give them a decent amount of time, and Nakamura and AJ will put on a clinic at Wrestlemania. Let's just hope this happens.
2. Braun Strowman Winning The Universal Championship
I think it's safe to say that I'm a Braun Strowman fan. Hes organically grown as the most over big man in the WWE for quite some time and is constantly improving in the ring and with his character. His face run has been just as enjoyable as his heel run because he's doing the same thing - destroying people. The crowd loves it, I love it, and I know the WWE loves it. While Strowman is over enough without winning any championships, I think this is the year to give him a run with the Universal Championship. Let him win it, let him dominate the competition, and let the crowd soak it all in. Eventually have him lose to a random, which brings me to my final point….
1. Create a New "Jinder"
In 2017, a jobber skyrocketed to the main event picture and remained WWE champion for a better part of the year. That man is Jinder Mahal. Never in a million years I would have thought that Jinder Mahal would be WWE championship in 2017 and regardless of how you feel about him, he ran with it the best he could. It solidified him in the main event picture and Mahal will never be a jobber again (now he's in the US title picture). I want WWE to repeat this again this year, but this time I want the star to Elias. I think Elias has made a significant impact in his short time on the main roster, and despite some lackluster booking and lack of feuds, he has continued to remain over with the crowd. He's great on the mic, has a good look, decent in the ring, but most importantly he has a good character and it works. Having him as a wildcard in the Monday Night Raw main event picture could be interesting, and I don't think many people would mind seeing Elias as the Universal Champion. After all, WWE does stand for "Walk With Elias".
Well there ya have it! The top 5 things I want to see from WWE this year. Do you agree? Disagree? Have 5 things you want to see this year? Leave them in the comments down below and make sure to follow me once again @thisisgillie for more WWE articles and updates!
WWE: Last 5

5 Things I Want To See From WWE In 2018