Week two of the new year, and WWE has it's work cut out for it in the build to the Royal Rumble. With only two declared names for the main event, as well as a single championship match made, there's lots of work to do in only two weeks. With that being said, why waste words? It's your second-ever edition of Monday Night Spencer - I'm your host @SpennyLove, and let's get you set for RAW!
A friendly reminder that choosing to participate in any and all Win Column Sports WWE content is an endorsement of walking with Elias.
Last Week's RAW:
Get Brock Lesnar away from the title, and take Kane with you. It was only the first episode of 2018, but we already may have a contender for the Worst Segment of the Year. The main event - if you can call it that - was absolute shambles last week, with Lesnar walking into a chokeslam, and then somehow inheriting the Undertaker's powers of sitting straight up. While all of this happened, Braun Strowman was nowhere to be seen, and Kane remained ancient. I can't wait for this to be over, and hopefully to be over with a title around Braun's waist.
Braun Strowman continues to be the man, cutting a promo on Heath Slater in the middle of dominating his tag-team partner, Rhyno. He may not be as eloquent on the mic as Samoa Joe, but I'd argue Braun is just as terrifying.
That's not to say Samoa Joe isn't the man; while it was only January 1st, he may earn "Comment of the Year" for his burn on Renee Young.
Savage.
RAW Women's Champion Alexa Bliss was forced to tap out to the undefeated Asuka.
Finn Balor and the Club reunited (!!!!!)
Bray Wyatt defeated Apollo Crews
#WOKEN Matt Hardy cut a DELIGHTFUL promo on Wyatt post-match
Jason Jordan defeated Cesaro
State of the Belts:
I'm still holding out hope that either it's 2002, or that Kane is somehow removed from the upcoming Universal Championship match at the Royal Rumble. It's not even that he's a 50-year-old politician; it's that he's a 50-year-old politician who's had a really, really bad run. Last week's backstage segment with Braun Strowman was painful to watch, and it's not like Mr. Jacobs in-ring performances are wowing anybody anymore; while the speculation is that the Big Red Machine is only in the match to eat a pin from Lesnar, let's hope that WWE does the right thing and puts the strap on Strowman so that we can put these aging beasts out to pasture.
Roman Reigns defeated Samoa Joe last week and retained his Intercontinental Championship. It looks as though WWE is going to continue with his open challenge, as there's no storyline reason for a rematch with Joe; who could be next to face off against the Big Dog? Will he lose his championship before the Rumble and enter at #30 again?
God, I hope so.
Alexa Bliss lost clean to Asuka last week, but it doesn't appear as though there's going to be a championship match out of it. It doesn't make a lot of sense in kayfabe; why would you risk a guaranteed championship opportunity for the Royal Rumble? Maybe - and stop me if you've heard this one before - it's because they're about to make history again.
I refuse to talk about the RAW Tag Team Championships until Jason Jordan is nowhere near them. Is it painful? Absolutely. Seth Rollins is one of my favourite wrestlers. But as long as WWE continues to force this man down my throat, I'm not going to hurt my fingers typing about him. Give me the Revival!
Here and There:
The Miz is back! The Miz is back! Man, it's like Christmas all over again. Monday's top heel - come at me, Samoa Joe fans - returns after filming his most recent movie tonight. Last we saw the A-Lister, he was being triple powerbombed through an announce table after losing his Intercontinental Championship. While he's still owed his contractual rematch for his championship, he may have his eyes on bigger fish with the Royal Rumble approaching. All in all, it's hard not to be excited for his return.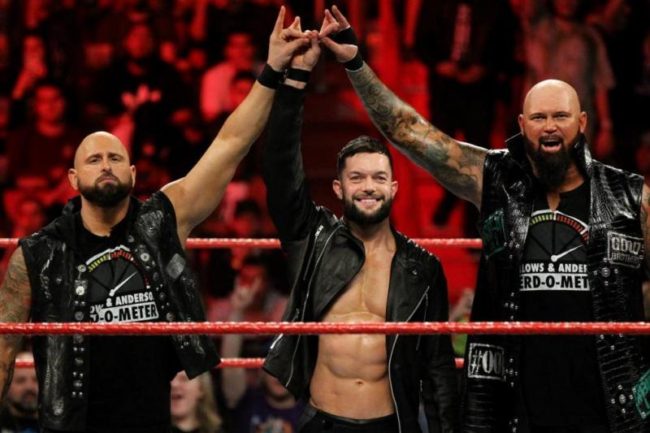 The Club is back! The Club is back! I'm not sure who got into Vince McMahon's ear and suggested pairing Finn Balor back with the Good Brothers, but what a person they are. It was evident from the start not only how much the fans loved the pairing, but how much the trio enjoyed themselves in the ring. They've got obvious chemistry, and it revitalizes three talents that, frankly, should be much higher on the card than they currently are. With the official RAW preview mentioning the partnership, it doesn't look like they're going away any time soon.
Off note, but I'm excited to see how much of the Mixed Match Challenge they play up on RAW. Will we see more interaction between Braun Strowman and Alexa Bliss, who are teammates for the event but rarely associate? As long as we don't get more Alicia Fox, I'm okay with either option.
Three Things to Watch For:
I may be the only person who's happy about Goldust's move to the Cruiserweight division, but only because it makes Goldust look like the Big Show compared to everyone else. Outside of the hilarity, he's another solid wrestler to a brand known for them - although being headed up by Enzo Amore certainly doesn't help establish it as a "wrestler's division"
Speaking of Enzo Amore, he'll finally have a match against Cedric Alexander for the Cruiserweight Championship tonight after missing last week with the flu. I've got Alexander winning the belt tonight - it's time for a change!
Always, ALWAYS watch for #WOKEN Matt Hardy. While I'd personally like more physical appearances from the Deleter of Worlds, he's officially become the most entertaining part of RAW by my books. Maybe it's just the fact I was such a fan of his original run, but he's been wonderful since his re-debut - look for something to build towards a Royal Rumble showdown with Bray Wyatt tonight.
WWE: Last 5

Monday Night Spencer - Preview and Predictions for the 08/01/18 RAW