NXT Preview - August 1, 2020
After one of the biggest main events on an episode of NXT in recent memory, the 3rd brand returns to us. We are well on our way to TakeOver: Brooklyn IV; and the card is looking stacked. The Women's championship match is set, the NXT Championship has a ton of interest around it, and the North American Championship may have found it's match last week. Lets look back at the last episode of NXT to explain more:
Adam Cole defeats Sean Maluta. 
After the match, Ricochet challenges Cole to a match at TakeOver: Brooklyn for the North American Championship.
Undisputed Era comes to intimidate Ricochet, but War Raiders even the odds. As the Era tries to retreat, Mustache Mountain stops them and we got a brawl.
Lacey Evans defeats Tenille Price. 
Tommaso Ciampa defeats Aleister Black to become the new NXT Champion.
Right?! Stacked. Make sure to check out Spencer Love's match card for TakeOver: Brooklyn if you like Spoilers. But, we do gotta preview the next few weeks of NXT still. I'm Parker Love, and lets get right into it!
Note: Read at your own risk: Spoilers are available on Win Column Sports. 
The Main Event
Tommaso Ciampa is NXT Champion.
Congrats, champ. Proud of you.

atTripleH

🖤🖤🖤 pic.twitter.com/qwRHZroqDh

— BLACKHEART (@ProjectCiampa) July 26, 2020
In reality, Ciampa completely deserves it. He came back from mulitple surgeries to put on what's probably his best work as a wrestler. He's the rare heel who gets a completely unified reaction, rather than a heel that gets cheered. The man is a god-level heel. While I am a little bitter that Aleister Black's reign had to come to an end, it still came off a dusty finish, and Black is completely ready for the main roster.
Ciampa will address the NXT universe tonight, and he has no nights off. He has a rematch clause with Black, his rival Johnny Gargano does have a clean victory over him, and there are tons of other guys who can step up to Ciampa. But tonight we get to see the start of his NXT Championship reign - and I'm fully on board. Go Champ-uh. Get it?
Other Segments
After getting the bit** smacked out of her last week, NXT Women's Champion Shayna Baszler takes on Candice LeRae. Candice has just started to be built up into the force she should have been from the very start, but this just unfortunately feels like a warm up match for the Queen of Spades before battling Kairi Sane in Brooklyn. LeRae's time will come to hold gold in WWE, but I predict that this might not have the "beat the champ, get a title shot" feel like we see on Monday's and Tuesdays.
EC3 and Kona Reeves got in an argument about who does the other's gimmick better. That led to Ethan Carter the Third wanting to throw fisticuffs with "NXT's Finest". While I'm extremely happy to have EC3 on my televisionI'm still confused - what is NXT doing with the One-Percenter? This is probably my one gripe about NXT, but hopefully this is the start of a more sustained push for Cater.
Heavy Machinery take on The Mighty tonight. This fresh new match-up is sure to invigorate fans.
Mustache Mountain returns to action for the first time since losing the tag team championships. I'm extremely interested to see where they go with this, after The Undisputed Era forced Tyler Bate to throw in the towel to save his friend. This team is a fantastic babyface tag team, and they do still have a rematch clause for the championships. After that, who knows what direction they go?
The Championship Scene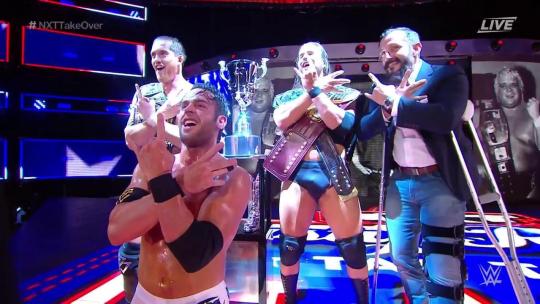 All the champs we're talked about briefly other than the resident NXT Tag Team Champions, Kyle O'Reilly & Roderick Strong. The two-time champs don't have an official match for Brooklyn yet, but it seems that the next two challengers made it abundantly clear who's up next: Mustache Mountain & War Raiders.
As well, Adam Cole and Ricochet seem to be on a collision course for the North American Championship, and I couldn't be more excited.
My Thoughts
War Raiders starting to get a more prominent spot in NXT is probably one of the best decisions made thus far. My only concern is that: say they take the titles off Undisputed, who feuds with them next? Heavy Machinery? Street Profits?
NXT UK made it's tv debut  last weekend, and it does look solid. How do you think they'll tie these two brands together?
Last 5!
NXT Preview - August 1, 2020