As we approach Clash of Champions, it's worth noting how lucky we've been as wrestling fans over the year. While this year certainly had it's trials and tribulations - see Mahal, Jinder or Prison, Punjabi for reference - 2017 was filled with some of the highest quality work WWE has put on since the Attitude Era. We've been treated to some of the highest quality matches we've seen in years, both inside and outside WWE.
That being said, the Clash of Champions match card feels like a perfect metaphor for wrestling in 2017. While the in-ring work should be excellent, it feels like a hastily thrown together card, with little build outside of the main events. However, we should start to see some build towards next month's Royal Rumble, as well as further development in the Owens+Zayn vs. Shane McMahon storyline.
We've got our picks in - who've you got?
Mojo Rawley vs. Zach Ryder (Pre-Show)
You have 2 days @ZackRyder. #WWEClash pic.twitter.com/YfIMvV7GLA

— Mojo Rawley (@MojoRawleyWWE) December 15, 2020
Spencer: I almost thought I'd dreamed up the Mojo Rawley heel turn, honestly. It's been three weeks, and yet this is the first meaningful advancement they've done for this feud. It does about as much for me as the 4th member of the Black Eyed Peas does - absolutely nothing. Feud rules state that the one who turns heel, wins - so my pick is Rob Gronkowski's former friend. Pick: Mojo Rawley
Parker: Alright. This is happening I guess. In a breakup comparable with the mega powers, this is a potential feud of the year. Neither was on the go-home edition of SmackDown Live. I think collectively they've put about 15 sentences into building this. Remember when Zack Ryder won the IC Championship at Mania 32? At lest with a Mojo heel turn, we don't have to listen to that big, annoying child. Pick: Mojo Rawley goes on to a mediocre heel run
Prince: So they did a huge heel turn and the match itself is going to be on the kickoff? It show's how much WWE is invested in this feud, and I personally think Mojo has the potential to be a great heel. Mojo will win and maybe WWE will push him more because he has been suffering from inconsistent booking. Wins the Andre The Giant Battle Royal to doing absolutely nothing this whole year. Nothing. Pick: Mojo Rawley
The Bludgeon Brothers vs. Breezango
S: Oh Breezango, how I love thee. I know not everyone can be in the title scene at all times, but man would I love to see a tag-team title run in their future. It's just too bad they'll be thoroughly dominated by (Luke) Harper and (Erik) Rowan - there's no way the Bludgeon Brothers lose their PPV debut. Pick: Bludgeon Brothers
Pa: Breezango is probably one of the best comedy acts in wrestling, and both are extremely underrated wrestlers. With the past few weeks of booking, does anyone really question who will win this match? I want justice for the destroyed office of Tyler Breeze and Deputy Dango. Pick: 2B in a slightly extended squash
Pr: As I much I love Breezango - they should be competing for the titles - I don't see The Bludgeon Brothers losing. They have been involved in a series of squash matches and are being booked as a dominant tag team to help shake up the tag team division on Smackdown. Pick: Bludgeon Brothers
Smackdown Women's Championship Match - Charlotte Flair© vs. Natalya
S: A tale of two legacy wrestlers: one, Charlotte Flair, has become arguably one of the greatest women's wrestlers that WWE has ever seen. A six-time women's champion on the main roster, the first women's Grand Slam champion, and one of the faces of the franchise. Natalya is a crazy cat lady. You be the judge. Pick: Charlotte Flair.
Pa: This'll be a solid match with a small chance of a title change, unless we finally see Carmella cash in? Pick: Charlotte Flair
Pr: In a similar situation to AJ Styles, I don't see why Charlotte would lose the title. I am interested in how they incorporate the new Ruby Riott faction as they have the potential to be one of the best aspects of Smackdown. Pick: Charlotte Flair
United States Championship Match - Baron Corbin© vs. Bobby Roode vs. Dolph Ziggler
S: Y'know, I think I've beaten a dead horse on the inclusion of Dolph Ziggler to this match, but that doesn't make it any less true. I'll shut up and simply make a prediction to avoid rambling; I think there's still more development to do on Bobby Roode's end, but I do see this feud ending with him lifting the championship. He won't win it here, however; Dolph must be hungry, because he's eating the pin. Prediction: Baron Corbin
Pa: I am excited to see how this match turns out. All three are solid wrestlers (yes, even Corbin), and Roode & Mr Ziggles are strong story-tellers. I think this match has some potential. However, I do think it is the most predictable match on this card. Corbin pins Ziggler, because why the hell is he in this match. Continue Corbin vs Roode feud until the Rumble. Pick: Baron Corbin
Pr: Now this is interesting. Corbin has been an alright champion so far and I don't really like Bobby Roode as a face, but giving the title to Dolph Ziggler also does nothing. So whats the best option? Give the title to Bobby and maybe have a Roode vs Mahal feud for the US title? Could be a really well done program if done right. Pick: Bobby Roode becomes the new US Champion.
Smackdown Tag Team Championship Match - The Usos© vs. The New Day vs. Gable & Benjamin vs. Rusev Day
Spencer: How do you pack so much talent into one match?! The Usos and New Day both have strong cases for tag team of the year, with a couple MOTY candidates and consistently entertaining promos. "How does it get any better than this?", I thought. Well, it got better. The four individuals added to this match - Shelton Benjamin, Chad Gable, Aidan English and Rusev - are all terrific wrestlers in their own rights. Rusev, especially, has been one of my favourite parts of Tuesday nights. He's a main-event level talent waiting to break out, with Rusev Day having the potential to turn into 2018's version of The List of Jericho for entertainment value. I'm making this pick with my heart. Vince, if you're reading this, know that everyone wants this. Pick: Rusev Day.
Pa: For… reasons, The New Day was added to the Usos – American Alpha 2.0 match despite losing at Hell in a Cell. So, triple threat. I can live with it. But then English and Rusev get added? I will go on record saying I'm not the biggest Rusev fan, but I can see his entertainment value. Storywise, this match is not very good. Wrestling wise, this is probably going to be a match of the night contender. Fatal 4- Way reeks of a title change, so… Pick: Gable & Benjamin with a dirty win (although rooting for the Usos)
Pr: This right here is going to be MOTN. No doubts about that. All four teams are great in ring performers and these men will steal the show if given the right amount of time. The safe prediction would be that The Usos retain but I really want Rusev and English to win. It's a shame that Rusev is not a more vital part of Smackdown because he is straight gold and because of that I want him to win some gold. Pick: Rusev Day
WWE Championship Match - AJ Styles© vs. Jinder Mahal
S: Even if Jinder hadn't been hindered prior to Survivor Series, I still would have picked him to lose this match. However, after losing his title, missing out on a marquee date with Brock Lesnar and losing clean to Triple HHH on WWE's prized tour of India? Pick: AJ Styles
Pa: Styles has continued his fantastic sophomore year in WWE with a great match vs Brock Lesnar at Survivor Series, and helped Mahal wrestle his best match of his championship reign. Styles can continue to hold the championship and continue to have great matches along with Dream matches.
Or you can give the Belt back to the guy that lost to Triple H in India, and had one of their two matches canceled in Jinder's "home country" (he is from CALGARY), brought back the Punjabi Prison match, and brought the Great Khali back. In hindsight, Jinder Mahal: Midcard Champion probably would have gone a lot smoother. Fun fact! The WWE Championship hasn't been in the main event since July, and probably not until Fastlane.
Winner: please, for the love of god, AJ Styles
Pr: I don't see why Jinder would win the championship back. It should stay on AJ and it should stay on him all the way until WrestleMania - hopefully to set up a potential match with Nakamura. Should be a standard match; I mean it does involve AJ Styles so there's no way it can be bad. Pick: AJ Styles
Kevin Owens & Sami Zayn vs. Randy Orton & Shinsuke Nakamura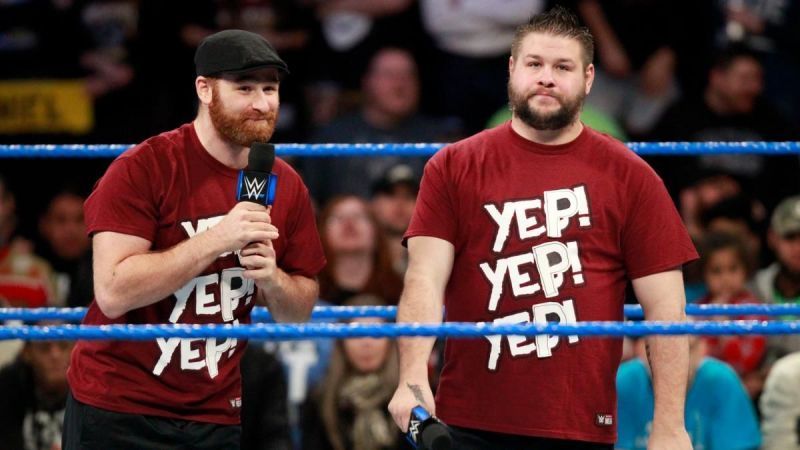 S: Two referees? Well, that solves any sort of controversy that may come up! In all seriousness, Daniel Bryan adding himself to the match as a second referee opens this match up to a whole realm of possibilities. I simply can't see a clean finish occurring, especially with the stipulation that Sami Zayn and Kevin Owens are fired from WWE should they lose. Expect shenanigans to occur - and while Zayn and Owens may not win, I can't see a conclusion that has them fired, either. Pick: No winner; two pins are counted, one by each referee.
Pa: "Smackdown Live will be about the fans, and the wrestlers" said Shane Mcmahon after the brand split. Part of what made Smackdown feel unique after the initial brand split was their reliance on their wrestlers and the freedom they had. That being said: The collection of talent in this match, with the inclusion of two guest refs, creates really high stakes alone. With Owens and Zayn fighting for their jobs, it creates a ton of possibilities. Will Shane or Daniel Bryan turn heel? Will Orton cost his team the match? What will happen to Kevin Owens and Sami Zayn? I'm hoping the match quality lives up to the potential here, and I predict that the "YEP" movement gets a bit bigger. Pick: Kevin Owens & Sami Zayn win, with Daniel Bryan counting the winning pinfall.
Pr: Talk about a match that suffers from overbooking. Two guest referees and a loser gets fired stipulation? Jeez. The match itself should be okay but a big portion of this match will involve a lot of shenanigans. It's hard to predict what will quite happen but I do smell a heel turn for either Shane or Randy Orton because it would be stupid to turn Daniel Bryan heel. Does this lead to a in ring return for Daniel Bryan? Hopefully, as WWE is now allowing him to be a guest referee in which he will probably get physical. I don't see Sami and KO losing, it's just how they win that is hard to predict. Pick: Sami Zayn and Kevin Owens
That's it, that's all! Agree with our picks? Let us know at @WCSportsCA or in the comments section!
WWE: Last Five

Over the Top Rope - Clash of Champions Predictions