We've reached the final stop on the Road to WrestleMania, as Fastlane takes place tomorrow night in Columbus, Ohio at the Nationwide Arena. It's a fairly weak card, to be fairly honest; however, as with most PPV's, it should feature some great wrestling and especially in the main event.
The WWE writers of Win Column Sports have their predictions below - you watching?
Becky Lynch & Naomi vs. Natalya & Carmella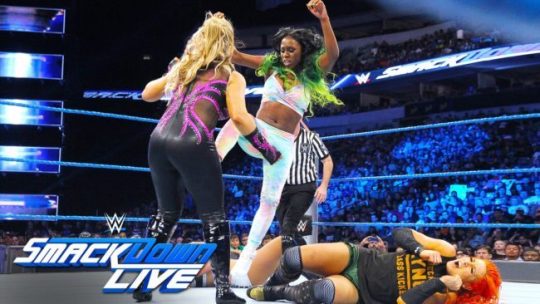 Spencer: In a shocking decision, Smackdown Live has inexplicably booked a standard tag-team match, rather than the usual six-woman tag that we've come to know and hate. No idea what got Road Dogg to push himself this far out of his comfort zone, but it's truly been a monumental build to what's sure to be an instant classic. I'll predict that this one shows up on the pre-show, and makes the crowd happy right off the bat. Prediction: Becky & Naomi
Dylan: I don't have too much to say about this match other than either team could win and I would not care. I'm gonna go with the tradition of "Money In The Bank Winner loses every match leading up to their cash in." Such a great start for a lackluster… predictable night. Prediction: Becky and Naomi 
Prince: Carmella will keep looking weak until her big cash in at WM. They are basically trying to create a women's version of Rollins' cash in a few years back. It could be interesting but this match is not. Prediction: Becky and Naomi
Parker: Well, what a well built feud. As Dylan points out, WWE has a tried and true formula with MITB holders - they lose everything until they cash in - unless you're Baron Corbin, then you lose, period. WWE won't have the faces lose here. Prediction: Becky & Naomi
Hayden: I have written at length about the stagnant, subpar nature of the SmackDown! Women's Divison - and my writings have been deleted from our webpage, twice. At least there's not much to write about here, anyways. Prediction: Becky and Naomi
Pedro: This is a well booked match, in a mediocre match card. In order for Carmella to cash in her Money In The Bank briefcase at WrestleMania, she will lose every match until her big day at New Orleans arrives. Predction: Becky and Naomi
Shinsuke Nakamura vs. Rusev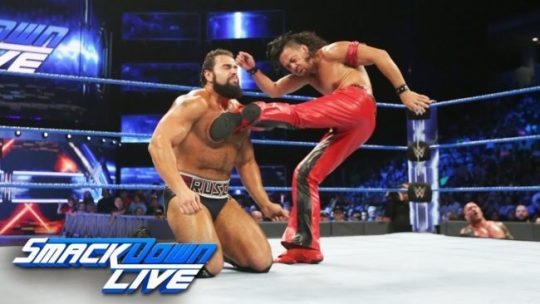 Spencer: It's truly a lose-lose scenario; give the win to Nakamura, and you immediately have him booed for beating the most popular man on the roster. Have Rusev triumph, however, and your Royal Rumble winner loses all the momentum he has on the Road to WrestleMania. Seeing as one is competing in a dream match a little less than a month from now, it looks like it's a terrible Rusev Day for everyone. Prediction: Shinsuke Nakamura
Dylan: What a terrible way to celebrate Rusev Day! Prediction: Shinsuke Nakamura rolls along on the Road to WrestleMania
Prince: So instead of taking advantage of the popularity of Rusev Day, we get this instead? Nakamura hasn't done much since Royal Rumble so this is just a way to remind people he's going into a marquee WM match. If there's one guy whose more over than Nakamura, it's Rusev, and a loss here does nothing for him. What a poor way to book Rusev. Prediction: Nakamura
Parker: Full disclosure, I'm not the biggest Rusev fan; however, WWE could have had something big with him - and they completely ignored it. Really, people are gonna be more on Rusev's side for this match. This matchup doesn't make much sense. That being said… Prediction: Shinsuke Nakamura ruins Rusev Day. 
Hayden: Everyone on the Rusev train has clamored for more of the Bulgarian Brute - look to RAW, where chants started in the opening segment. Well, your wish has been granted; you get to watch Rusev lose on the road to WrestleMania! Happy Rusev Day! Prediction: Shinsuke Nakamura
Pedro: You got a fan favorite booked against a future WWE champion. This surely looks a shot in the foot by WWE. However, I believe they will pull the hand brake on this before it is too late. There is a way to escape from this without damaging the reputation of any worker. Prediction: Double Countout
United States Championship Match - Bobby Roode vs. Randy Orton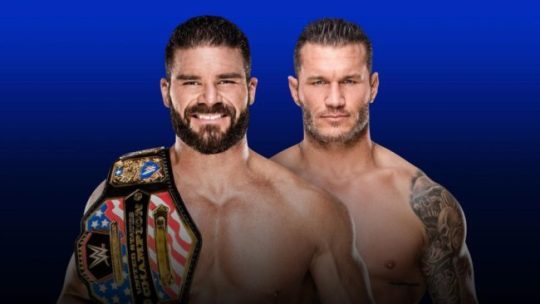 Spencer: The only person that I won't cheer for when they're facing Randy Orton is Jinder Mahal, and that's only because I stop watching at that point. However, I'm assuming that the Maharaja interferes in this match, sending the United States Championship into the dreaded "Ladder Match at WrestleMania" territory. Prediction: Bobby Roode wins via DQ
Dylan: This could be the only title that has even a slight chance of changing hands at Fastlane. Both of these guys really don't have a clear path to the WrestleMania card. It's crazy to think that Randy Orton could be on the pre-show this year. Prediction: Randy Orton becomes the New US Champion
Prince: As Spencer mentions above, Jinder will interfere, leading into a multi - man ladder match at WM. Could care less for this feud, as it would of been a lot better if either man was a heel. Prediction: Bobby Roode retains via DQ
Parker: I really hope WWE doesn't hot shot the belt. That being said, this feud hasn't done much. Give Roode a chance to shine with the belt. The only way I would want to see Orton win here, is with a heel turn for Roode. Prediction: Bobby Roode retains. 
Hayden: Bob Roode has his work cut out for him, and he'll get the job done. Count on Orton winning another title at 'Mania, derailing the momentum of a grizzled young vet. Maybe Mahal can work his way into the finish; who am I kidding? Prediction: Bob Roode retains - Mahal interference
Pedro: Just as I did at the Elimination Chamber, I'm praying to the late great Chris Candido in order for WWE not to ruin this. They must not treat the US title like they did with the tag team straps late last year. Prediction: Bobby Roode retains.
Smackdown Women's Championship Match - Charlotte Flair vs. Ruby Riott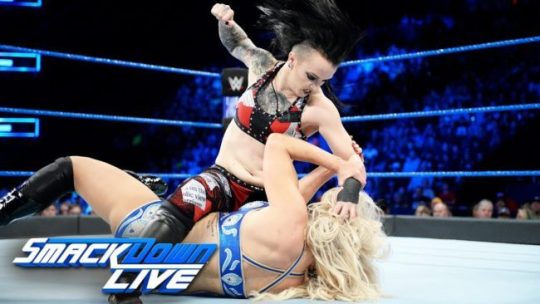 Spencer: The build to Fastlane's Smackdown Women's Championship has been absolutely fantastic. While the Riott Squad haven't exactly lit Smackdown on fire since their debut, the last few weeks have presented Ruby Riott exactly how she should have been presented since the start - like a star. I'm a huge fan of the former Heidi Lovelace; while I was confused with her debut as a heel, last week's promo convinced me more than ever that she can play the part convincingly. It's disappointing that I don't think she has a chance here. Personally, I still think that Asuka will challenge Flair at WrestleMania - but in order for her to do so, Charlotte has to retain. Prediction: Charlotte Flair
Dylan: I love what I've seen out of the Riott Squad the past few weeks. The promo from Ruby on this past weeks SmackDown Live was something that made me buy in to this match. While I think Ruby has no chance of winning, a solid showing could get the writers to second guess the Smackdown Women's Championship picture going into WrestleMania. I'm thinking a multi-person match at WrestleMania could be the end game. Prediction: Charlotte retains
Prince: This is pretty much a filler feud since we all know Charlotte is going into WM as champion. That being said, the build up has been fantastic and it's giving Ruby time to shine. These two should put on a good match, which should lead to a Ruby Riott push post - WM. Charlotte retains
Parker: Ruby probably actually does have the most momentum out of any of the women on SmackDown Live. She's a solid wrestler and will have her chance at the belt, but there's no real chance they take it off Charlotte here heading into 'Mania - especially with a potential match against Asuka in the cards. Prediction: Charlotte retains.

Hayden: I look forward to this match - but no doubt remains about the outcome. Look to the "Nature Girl" (you hack, get your own gimmick!) to retain, and face Tamina at the Grandest Stage of them All. Prediction: Charlotte Flair retains.
Pedro: Ruby is a good wrestler. She has outperformed most of  the Smackdown roster as of recently. However, timing is not on her side, and she will not take the belt from Charlotte, not before Mania. Prediction: Charlotte retains
Smackdown Tag Team Championship Match - The Usos vs. The New Day
Spencer: I'm glad that their feud-concluding match at Hell in a Cell is still relevant. I'm sure the Bludgeon Brothers will get involved in this one somehow; do we see a DQ finish to have the Usos retain? I'd think so, even just to get them on the main card of WrestleMania. Prediction: The Usos
Dylan: Will this be a good match? Of course. Am I as invested as I should be? No. The promos between the two have been great… but this whole show seems like it's thrown together and an inconvenience. Will they be on the main card of WrestleMania? That remains to be seen. Prediction: The Usos retain. 
Prince: These two teams have chemistry. They have put on amazing matches. They have great promos against one another. The only problem? They have faced each other a million times already. Hopefully The Usos get put onto the main card of WM as they deserve it. The Usos retain.
Parker: This will be match of the night, I will guarantee it. I am a bit weirder out here, as I thought that another team would have a shot here (see: Brothers, Bludgeon). That being said, I feel like the New Day could steal one somehow - WWE does want to give them the most championship reigns of all time, and this seems like an easy way to get them another reign. I am pulling for the Usos here, but i'm going on a limb. Prediction: The New Day steals one in a way to continue this feud into New Orleans. 
Hayden: I've been down since halfway through the Usos recent tag title run - ish. Following an unbelievable series against the New Day, the Usos found themselves outclassing their other competitors, leaving us starved for great tag team action. Don't contest it. New Day and the Usos haven't been tentpoles for the divison - they've been Atlas, carrying it on their backs since the Summer of '17, incidentally the same summer me and the guys from school had a band (we tried real hard, but Jimmy quit and Jody got married). Look to the Usos to get even further and retain. Prediction: Usos retain.
Pedro: Why does WWE still try to face these two teams together? Prediction: The Usos retain
WWE Championship Match - AJ Styles vs. Baron Corbin vs. Kevin Owens vs. John Cena vs. Sami Zayn vs. Dolph Ziggler
Spencer: This match will be like a mediocre stew at a second-rate diner; it definitely wasn't prepared in the best of conditions, there's a few completely random components in it, and it's definitely not your ideal main course. However, it'll likely be completely satisfactory, and hell, you may even find yourself enjoying it. At the very least, it'll hopefully give you the result you're looking for - at least, that's what I'm predicting. Prediction: AJ Styles retains.
Dylan: From potential Shane McMahon/Daniel Bryan involvement to John Cena potentially becoming a 17 time World Champion, This should be a GREAT match with so many elements going on. Will WWE give the fans the match they want in AJ Styles vs Nakamura? Or will they ROB the world of what will surely be a classic after teasing Cena-Nakamura? Prediction: AJ Styles retains.
Prince:A lot of elements at play here that should make for a great match. I don't see WWE taking a dream match away from us and everyone involved have their own roads to Wrestlemania. Ziggler and Corbin will get added to the eventual US title Ladder match where Cena will most likely face Taker. Sami and Kevin will feud against each other (hopefully not in the ATGBR) leaving AJ to defend against Nakamura. Prediction: AJ Styles
Parker: Let's run through this. Sami and KO, in my opinion, should either be facing each other/a team with Shane McMahon at WrestleMania. Cena will be facing Undertaker. And really, WWE can't be that negligent to put the title on Corbin or Ziggler here when they have a dream match in the cards here. They do have a few storylines they can play off of in this match, and all 6 should put together an exciting match. But please, WWE, don't take this from us. Prediction: AJ Styles retains the WWE Championship. 
Hayden: I wish the Roman Reigns was a part of this match. The John Cena won't be walking out with the title - and you'd be mad to think anyone (bar Baron Corbin) stands a chance of walking out with the title. Though I was holding out hope for the Nakamura/Corbin match we have all been dreaming of, the realist in me sees WWE Champion AJ Styles retaining. Prediction: AJ retains.
Pedro: Hey, look what I found! A misplaced Baron Corbin. If anyone is going to take AJ's title from him, it would be at WrestleMania, WWE has to be out of their to minds to change champion in such a mediocre PPV. No changes in regards to Smackdown's "Big Bet"… Thank god this will be the last match of the night. Prediction: AJ retains
That's the show! Next stop, WrestleMania! Let us know your thoughts on Fastlane through any of our social media channels, or in the comments below!
WWE Last 5
WWE Fastlane Preview and Predictions