The Week In Review is a weekly compilation of hand-picked stories selected by members of WinColumnSports that they deem important or impactful from the week that was. There is also a running pool amongst the contributors based on our picks for Saturday's match-ups.
Stories From the Past Week
"Tough time are coming for Chicago with Corey Crawford hitting the IR on December 1st; Originally, I'd pick the Blackhawks to defeat the Stars after (finally) starting to heat up after their poor start prior to the news of the injury. Regardless of his poor start, Crawford is a game-changer in Chicago. Chicago will turn to Anton Forsberg who hasn't been tested much as a back-up goaltender. If Crawford is out for an extended period of time, we could potentially see the Blackhawks 9-season playoff streak end - a streak that could begin tonight against the Stars."
The Blackhawks aren't the only squad dealing with this situation. The Pens and the Oilers are also trying to overcome this hurdle to stay afloat and keep the play-offs within reach.
"Last Saturday (November 30th) Alexander Ovechkin scored a hat trick against the Leafs. This hat-trick came on Hockey Fights Cancer Night and resulted in a memorable night for one young hockey fan. After the first goal, Ovechkin pointed to the stands towards Alex Luey, 13, who was in attendance for this memorable night. The Washington Capital had personally invited Alex and made one of Alex's dreams come true. As a result, Alex announced the starting line-up and was able to Meet Ovechkin and the rest of the Capitals squad during the pregame. Alex Luey was diagnosed with osteosarcoma the previous year which is s cancer developed within the bones. Despite Alex being cancer free now, Alex lost part of his right leg due to amputation. Alex has a prosthetic which allows him to continue playing the game Alex loves, hockey."
This isn't the first time this season that Ovechkin has displayed empathy. This story came to light in late October when the Capitals played the Oilers here in Edmonton. It was documented that Ovechkin gave his own coat and hat to a homeless man. When asked about it Ovechkin said "If you see a guy almost naked out there with that kind of temperature, I think every human can do something, you know?" I always hear people call athletes over-paid self-absorbed human-beings which can't be true for everyone. What some of these athletes do behind the limelight for others is remarkable. At the end of the day, these athletes are just like myself and everyone else in this world: Human.
Over the past couple years the Calder Trophy seems to always have a favorite right out of the gate, however; This year is different. The amount of rookie skaters performing above and beyond their expectations is a pleasant surprise. With the season passing over the quarter mark the only disappointment coming from the rookie skaters is Nolan Patrick. This can easily be chalked up to Patrick playing outside of a stacked top 6 in Philly. Despite this draft class being less prolific than the years that have come and gone, these rookies have put on quite the show. This makes myself along with others excited for the years to come. If I had to make a prediction, I would pick Clayton Keller to take home the Calder for the 2017/2018 season despite playing on the Coyotes.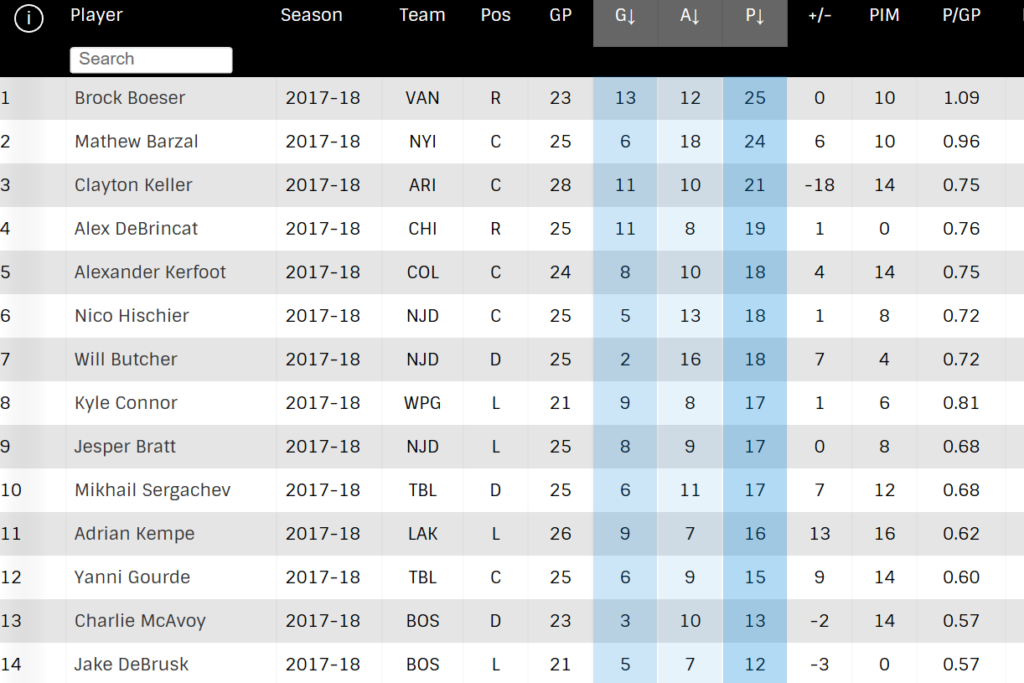 WinColumnSports Saturday Picks
| | | | |
| --- | --- | --- | --- |
| Games | Spencer Love | Ben Ferguson | Arik Krause |
| Bruins @ Flyers | Flyers | Bruins | Bruins |
| Blues @ Wild | Blues | Blues | Blues |
| Maple Leafs @ Canucks | Maple Leafs | Maple Leafs | Maple Leafs |
| Red Wings @ Canadiens | Red Wings | Canadiens | Red Wings |
| Sharks @ Lightning | Lightning | Lightning | Lightning |
| Sabres @ Penguins | Penguins | Penguins | Penguins |
| Blue Jackets @ Capitals | Blue Jackets | Capitals | Capitals |
| Panthers @ Hurricanes | Panthers | Hurricanes | Hurricanes |
| Devils @ Coyotes | Coyotes | Devils | Devils |
| Ducks @ Predators | Predators | Predators | Predators |
| Blackhawks @ Stars | Stars | Blackhawks | Stars |
| Oilers @ Flames | Oilers | Oilers | Oilers |
| Last Week's Record | 0-0 | 0-0 | 0-0 |
| Record to Date | 0-0 | 0-0 | 0-0 |
This running pool is open to readers and WinColumnSport contributors. If you are interested in joining you can contact me on twitter (@WCS_BFerg). However; if you join the pool you must be willing to contribute a developing story from the week that was.
Previous Articles:

The Week In Review: The NHL Edition.