Week 13 has come and gone, and it sure seems like this Fantasy Football season is flying by. The regular season is over for most standard leagues, and we're looking ahead to the playoffs in the Week 13 Fantasy Football Winner's and Loser's column. Today's column will also include a feel-good story of the week.
The Fantasy Football Winner's and Loser's column provides users with the recent weeks winners and losers, while also including analysis of the previous weeks Fantasy performances.
Disclaimer – All Fantasy Football articles are written with the information given by ESPN Standard PPR scoring.
The Winners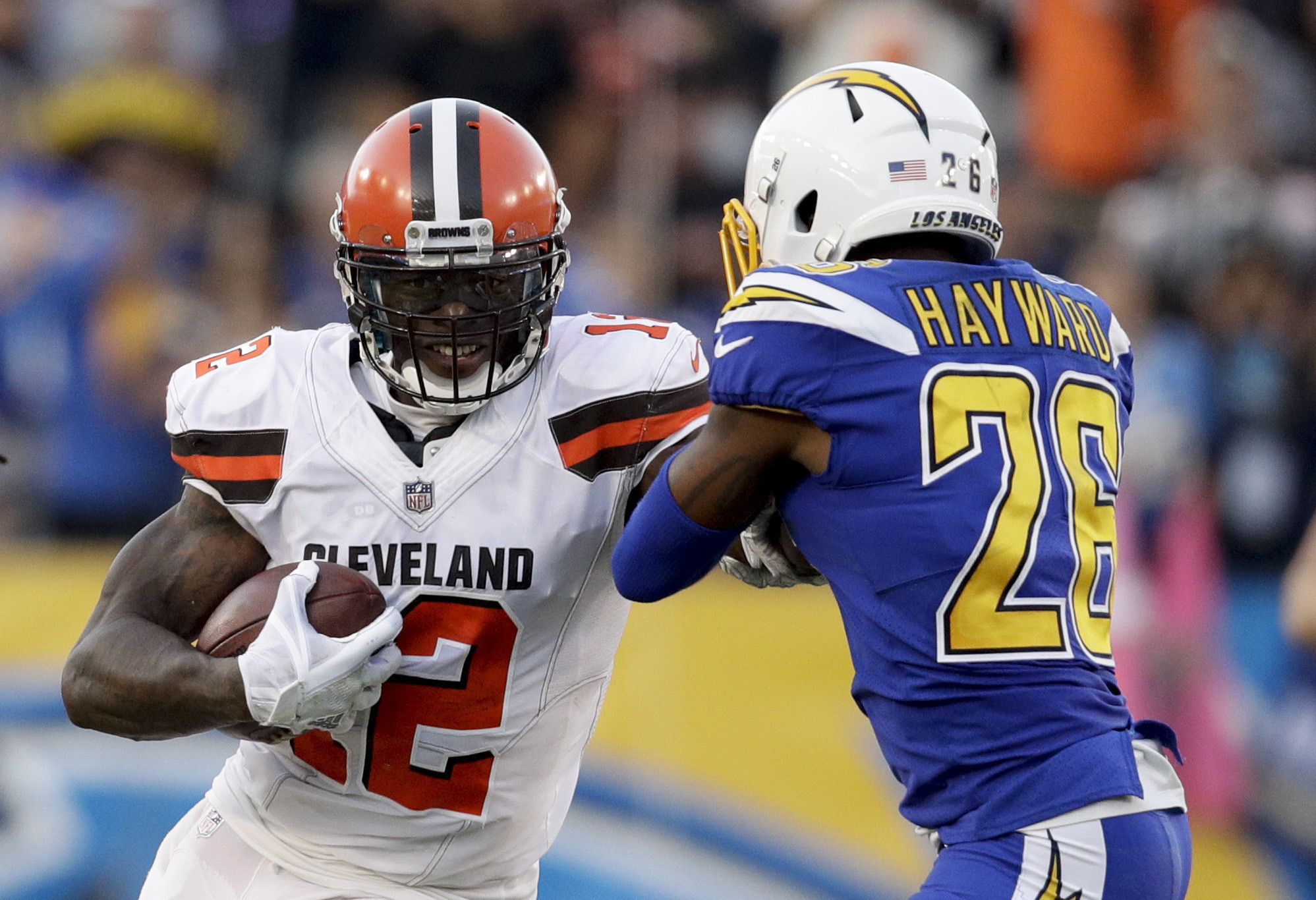 Josh Gordon, WR
13.5 Fantasy Points
This is a special case, as in most weeks 13.5 fantasy points won't land you on either side of the winners or losers column. However, Gordon - who has changed his life for the better through rehab, after struggling with substance abuse earlier in his career - played his first snaps in THREE years Sunday. Gordon, who earlier in his career was compared to Megatron (Calvin Johnson), returned to action this week bringing in 4 catches for 85 yards against a stout Chargers defense. Expect Gordon to put up huge numbers next week against Green Bay as he gets back into the swing of things.
If you do not have Josh Gordon on your team and you're in the fantasy playoffs, pick up this man today. Currently owned in 66.3% of leagues he can be an x-factor when it comes to winning your league.
 Alex Smith, QB
37.6 Fantasy Points
Alex Smith - who has now appeared on both sides of the column - had an amazing Sunday against the New York Jets. Unfortunately they lost the game, but Smith turned in a career high in fantasy points throwing for 366 yards and 4 TD's. He'll have an extremely favorable matchup next week against Oakland in Arrowhead. Kansas City is losing control of the division and if Smith doesn't help them turn it around they'll be on the outside looking in at the end of the regular season.
 Rex Burkhead, RB
25.3 Fantasy Points
I'm personally not a fan of rostering New England RB's, since the situation in the Patriot's backfield is so volatile; it's a true community backfield and one mistake can land you on the bench for the rest of the game. Nonetheless, Rex Burkhead is finding his way in the offense. If Burkhead can routinely get 12-16 touches a game, he should be able to return at least flex considerations to your fantasy lineup.
 Nelson Agholor, WR
27.1 Fantasy Points
It's not often that a #2 WR lands into the winner's column, but Agholor changes that with a huge Week 13 performance. While the Eagles lost to my Seahawks (shameless plug) Agholor torched Seattle's injured defence for 141 yards on 7 catches and a TD. Only started in 16.8% of ESPN leagues, those who took that chance got rewarded greatly.
 Evan Engram, TE
22.9 Fantasy Points
In my opinion the only Giants player worth starting on a weekly basis, Engram has been the only bright spot for New York this year as the Giants have gone through the wringer. Eli Manning will be starting week 14 after the Giants fired both their head coach and general manager. Expect Engram to continue putting up solid numbers from the TE spot for the remainder of the year with Odell Beckham and Brandon Marshall being hurt.
The Losers
Detroit Lions, D/ST
-4 Fantasy Points
A loser's column first. I'm going to go on a bit of a rant here, me placing the defense and the points they didn't score in the column has to do with the integrity of the column being about fantasy football. I'm disappointed in the entire Lions team.
Nothing can be done about the Vikings running away with the division, but being in a division with a lowly Bears team and an Aaron Rodgers(less) Packers team means the Lions SHOULD be sitting pretty in the wildcard race. All in all, inexcusable to allow 38 points to the Ravens offense.

Mike Evans, WR
5.3 Fantasy Points
I don't feel like it's right to blame the entirety of Mike Evans inconsistency problems on himself this year, as Tampa Bay has basically looked overwhelming compared to the expectations they had as a team coming into the year.
Evans looked great under Fitzpatrick as the target share seemed to favor him more; now that Winston is back under center it's tough sledding for Evans as Winston likes to distribute the ball evenly. It won't get any easier in Week 14 against Darius Slay and the Lions, who should bounce back this week.
 Tom Brady, QB
8.3 Fantasy Points
I'll admit one of the reasons I'm putting Brady on this list is because it's so rare that he performs badly enough to be put onto it. The Greatest of All Time was held without a passing TD for the first time since Week 1. Brady moved the ball well amassing 258 yards in the contest against the Bills, but couldn't manage to execute in the red zone. This is surely a one off, expect Brady to bounce back to his usual self next week against Miami.
 Danny Woodhead, RB
4.3 Fantasy Points
Simply not good enough. Danny Woodhead is usually a PPR lock as he excels in catching passes out of the backfield. A combination of a running back committee and recovering from injury had lead to a slow return for Woodhead who 20.1 points in his last 3 games.
If you are a Woodhead owner I'm sure you're worried about his production, but favorable matchups come his way. Week 15 against the Browns and Week 16 against the Colts.
Stefon Diggs, WR
5.7 Fantasy Points
It truly has been an up and down year for Stefon Diggs, who at the end of Week 4 was sitting at WR#2. Suffering an injury in week 5 against the Bears, Diggs really hasn't fully recovered performance wise. He only had 32 yards on 2 receptions, as well as a rush for 5 yards, and will look to turn his fortunes around against a middle of the pack Panthers defense in Week 14.
Make sure to check back every week for the remainder of the Fantasy Football scene for the winners and losers column, and good luck in the last week of the regular season for most leagues! Hopefully you can lock down your playoff spots.
If you missed last week's iteration of the Winners and Losers column you can check it out HERE
Have feedback or want to join in on the conversation? Connect with me on Twitter!
Fantasy Football: Winner's and Loser's Week 13