The daily fantasy hockey cheat sheet provides a quick daily read into the top lines, superstars, and value picks that should be considered going into puck drop.
TOP FANTASY LINES OF THE NIGHT
Colorado Avalanche @ Nashville Predators
Ryan Johansen ($4,600) - Filip Forsberg ($6,300) - Viktor Arvidsson ($4,800)
This line is starting to show potential of returning to their 2016/2017 form. This line accumulated 7 points on Thursday with Johansen leading the way with 3 of the 7. The Predators as a whole have started to string wins together and find their offense. The Predators have scored 3 or more goals in their last 6 games which is an excellent sign. Even though the Avs aren't a team you can take lightly, this line should have excellent production tonight. Expect this line to continue where they left off on Thursday, and as pricing goes, there is far more reward than risk; the value is certainly there and any one of these players should be considered when building your line-up.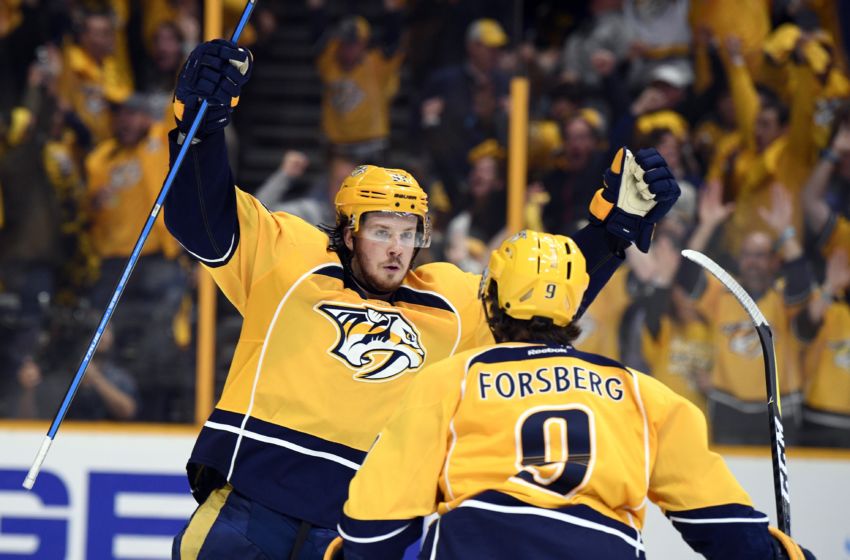 New York Islanders @ Tampa Bay Lightning
Steven Stamkos ($7,900) - Nikita Kucherov ($8,100) - Vladislav Namestnikov ($5,900)
I don't feel like I need to reiterate the potential of this line but for the sake of this article I'm going to. The best line in hockey struck once again on Thursday putting up 8 combined points with Stamkos leading the way with 4. On top of that, the trio fired 8 shots, which is surprisingly low but they had massive production nonetheless. Kucherov and Stamkos are nearly 2 points a game players and Namestnikov is just above a point a game. Of the last 5 games, Kucherov has 4 multi point games while Stamkos has 3. Namestnikov isn't nearly as high profile as the Stamkos/Kucherov duo but he's only been held pointless once in his last 10 games. Going into tonight's game against the Isles you can confidently pick any one of these players as the Isles have had issues keeping the puck out of their net recently.
Just missed: Brayden Schenn ($6,300) - Jaden Schwartz ($6,100) - Vladimir Tarasenko ($7,400)
SUPERSTAR TO BUILD AROUND
Patrick Kane ($7,700)
Kane is potentially one of the most consistent superstars over the last couple years and he's continued this trend so far this season. He's registered 18 SOG and 4 points over the last 5 games which sets Kane up nicely for tonight. The matchup tonight has shoot out written all over it, two teams with porous defenses and high-caliber offenses. Kane is the cornerstone of the Hawk's first power play unit so expect opportunities for production to be bountiful tonight.
Just missed: Jeff Skinner ($6,400)
VALUE ON OFFENSE
Alex Galchenyuk ($4,300)
Something has to give within Montreal's offense and Galchenyuk has the skill set to make it happen. Over his last ten games he's recorded 6 points and 29 shots which isn't anything you can write home about; however having him priced at $4,300 is as intriguing as it gets. Galchenyuk is shooting far more as he has registered 17 of his 49 total SOG over the past 5 games. At this price he can easily cover his floor with a handful of shots or chipping in an assist. The Habs play the Buds tonight and it should produce a high-paced offensive matchup which should benefit Galchenyuk.
Teuvo Teravainen ($4,800)
Teravainen is one of the cheapest forwards available that's plays on the first line and see's first power-play unit minutes. Over the past 3 games Teuvo has put up 6 points with 2 of those points coming on the power-play. This narrative plays into Teuvo's hands going into tonight's matchup as the Sabres take penalties in bunches it seems. The Sabres also have a depleted defensive corps and they have been struggling as of late. Look for Teuvo to build off his production he's had over the last couple games as he plays alongside stars such as Jeff Skinner and Jordan Staal who have also been red hot as of late.
Just missed: Brendan Gallagher ($4,700), Tyler Johnson ($3,300)
GOALTENDERS
Anton Khudobin ($7,000)
Khudobin get's the nod tonight against the Sharks which he has had past success against. He picked up the win and sported a .973SV% in a 2-1 victory in their last meeting and posted 9.2 DKP's. Even though the Sharks rank in the top 10 in shots per game, they rank both 25th in power-play efficiency and goals per game. The Sharks recently got shut-out by the Panthers and continue to struggle on offense, Khudobin is in an excellent spot due to his match-up and his pricing tonight. Look for him to build off his 2.35 GAA and .928SV% tonight.
Frederik Andersen ($7,600)
Andersen currently sports a mediocre stat-line (11-6-0, 3.04GAA, .909SV%) but has shown he can put up monster fantasy stat-lines. Andersen is averaging 8.5 DKP's over his last 4 games and has picked up wins in all 4 of those matchups. Andersen's last game saw him posting a 42 save shut out against the Devils. Andersen has a favorable matchup against the Habs tonight as the Habs are having difficulties and are struggling to find the back of the net. The Habs are ranked 1st in shots per game but are 27th when it comes to goals per game. Andersen has the potential to post another monster game fantasy wise tonight.
VALUE ON DEFENSE
Erik Johnson ($4,200)
When it comes to evaluating value defensemen its hard not to hone in on Johnson. Johnson is averaging 28 minutes of ice time a game over the past 4 games which is unheard of for the former 1st overall pick. The ice time alone make Johnson worth a look. If this ice time continues Johnson will be provided plenty of opportunities to produce. Johnson has registered 3 points and 9 SOG over the past 4 games which makes Johnson an excellent selection tonight. If the Avs offence builds off of Thursdays performance expect Johnson to find his way on the score sheet.
Mattias Ekholm ($3,900)
Playing in the shadow of Roman Josi and Subban causes Ekholm to be overlooked and underappreciated. Ekholm is coming off a strong performance against the Wild. Ekholm has 4 points and 7 SOG in the past 2 games and has seen plenty of power-play time. With the Predators finally finding their way on offense you can expect to see Ekholm build off his past couple performances.
Just missed: Marco Scandella ($3,800), Nikita Zaitsev ($3,600)
POWER PLAY DEFENSEMEN
Victor Hedman ($6,400)
Hedman is sporting 15 points, 7 of those points coming on the power play. Hedman benefits significantly from playing with the likes of Kucherov and Stamkos but Hedman alone provides plenty of offense. Over the past 3 games Hedman has registered 4 points along with 7 SOG. Hedmans averaging 5 DKP's and 24 minutes of ice time as well over the past 3 games. Look for the Lightning's offense to stay red hot which will certainly provide Hedman with plenty of opportunities tonight.
Kris Letang ($5,900)
When healthy there isn't many defensemen that can rival Letang's offensive production or capability. Letang mans a power-play that is riddled with superstars such as Malkin, Kessel, and Crosby. Letang has 15 points and 8 of those points are on the power-play. He's also first when it comes to SOG from a defensemen with 65. Over Letang's last 3 games he has 4 points and has fired 10 shots on goal and has recorded at least 3.5 DKP's in each of those games. Look for Letang to continue shooting and the points production with certainly follow.
Just missed: Morgan Rielly ($5,200)
Make sure to check back every Tuesday, Thursday, and Saturday as I will be providing cheat sheets for those slates. My line up for the slate will be posted prior to puck drop, and a line-up review will be posted the following morning.
I am not a promoter at Draftkings, but I am an avid fan and user (my username is HurtinAlbertan69). I often play in the games that I offer advice and insight on. Although I've expressed specific views and strategies in the article above, they do not mimic the strategies or players that I will deploy in the slate. I am not an employee of Draftkings (www.draftkings.com) and do not have access to any non-public information.

FANTASY HOCKEY CHEAT SHEET: TOP LINES, GOALIES, VALUE PLAYERS FOR SATURDAY EVENING'S 8-GAME SLATE