War Games!!!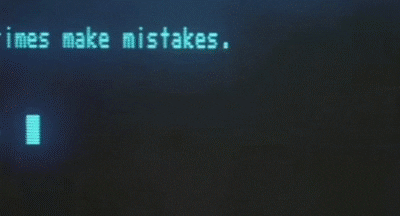 Wait… 
NXT has a habit of matching, if not outshining, their "big brothers" competing Pay Per View, and this should be no different. This should be one hell of a wrasslin' show. Two legitimately exciting championship matches, Aleister Black vs Velveteen Dream in an extremely well built match, and one more thing..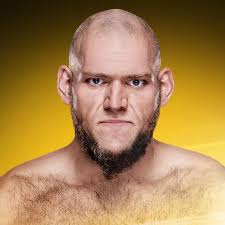 The TakeOver debut of Lars Sullivan. At long last, with endless enhancement talent serving as obstacle after obstacle, we're here. As well, War Games, but whatever.
Kassius Ohno vs Lars Sullivan
Lars Sullivan beats everyone up that he's faced, partnered with, put in the same room with, and so on.
Ohno is a recognizable name with a tons of in-ring experience, but hasn't been utilized to his full potential in NXT.
Lars Sullivan has been featured prominently since his debut.
Ohno has not been featured as prominently since his re-debut.
Chris Hero should help Dylan Miley put on a solid match, but there isn't really a reason to not have Sullivan go over here. Give it to the dude who looks like he can eat rocks and shit a mountain. Lars goes over, as it seems that NXT is betting on Sullivan to be their resident monster heel. This should be a fairly good first step.
Winner: Lars Sullivan beats Kassius Ohno decisively.
Velveteen Dream vs Aleister Black
Raise your hand if you thought this was going to be probably the best build feud of this card.
Put your hands down liars. Also, you probably look dumb.
A lot of fans thought Tommy E… Aleister Black could and should be doing bigger things (myself included) for this Takeover. We were completely wrong. Velveteen has been doing some incredible work in this feud, while Black has been his normal self throughout.
While this has definitely put Patrick Clark a little higher on the NXT totem pole, he's going up against Aleister Black, a guy who has been prominently featured even before his official NXT debut. He hasn't lost a match since Neville at the UK tournament, and that was to put over a UK born champ in the UK. Aleister Black is a guy that should be one of the next big things in WWE, and a loss here would stall his momentum. Dream's stock has increased throughout this feud, and will continue to grow in the future with performances. When Black loses his first match, it should feel huge. This wouldn't feel huge.
I feel like this is the match I'm most excited for, just cause I want to see Velveteen Dream get lit up with a Black Mass.
Hopefully Rick Hoffman reads this someday and chuckles a little bit. 
Winner: Aleister Black
NXT Women's Championship – Kari Sane vs Peyton Royce vs Ember Moon vs Nikki Cross
This match is the hardest to predict. All of these women have been great in-ring for WWE. Sane was arguably the star of the May Young Classic (and the one I'd love to see win the belt), Moon has put on good matches in all I've seen, Nikki Cross has been the star of sAnity, and Royce has improved leaps and bounds since her beginnings at NXT.
How do you replace Asuka? The winner of this match will have a ton of pressure to keep that prestige on the belt as Asuka, Bayley, Sasha, and more have continued to create with the NXT Women's Championship (well, other than Paige).
Sorry Paige. 
This is a toss-up, to me. I have no problem with any of these women winning it, and they've all looked strong thus far leading into the match. But I have a sneaking suspicion that the Women's Championship becomes a little more iconic. There's a lack of credible heel challengers to a babyface champ other than Royce, but Sane, Moon or Cross would be compelling challengers to a heel champ.
Winner:  Peyton Royce wins the NXT Women's championship via shenanigans.
NXT Championship: Andrade Cien Almas vs Drew McIntryre
Managers have been on quite the resurgence lately, haven't they? Heyman, Maryese, Paul Ellering: Zelina Vega is the latest example of this, except she can do a hurricarana OFF THE GOD DAMN APRON. Tell me the IWC wouldn't explode if Paul Heyman did this.
Good luck, any animators who want to take a shot at editing that! 
Seriously, Mrs. Austin Aries has been phenomenal in this feud thus far: breathing life into Almas: a character that was putting over incoming stars just a few months ago, and molding him into a guy who can realistically take on Drew McIntryre. This feud has been well built, especially with the last promo heading into takeover, and is a strong candidate for Match of the Night.
I can't see them taking the title off Drew McIntyre this early into his reign, unless they have immediate plans to call him up to the roster. That being said: Almas seems like a solid fit on the main roster, and has been great lately both in the ring (see: Johnny Gargano at Brooklyn III) & character wise (see: Zelina Vega). He could do great as a midcard heel on Raw or Smackdown to begin with.
McIntyre walks out champion after a solid match, unless Zelina throws a 3MB Shirt in the ring to distract him. Something says that won't fly though.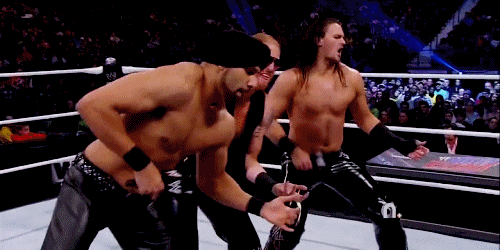 Wouldn't this haunt you too? Granted, all of these men have held belts in the past few months. 
Winner: Drew McIntyre retains the NXT Championship.
War Games: AOP & Roderick Strong vs SAnitY vs The Undisputed Era.
Well, well, well. This should be interesting. Do yourself a favour, go back and watch the reveal of this match by William Regal again to see what this match stipulation means to the wrestling community. There is an incredible collection of pure wrestling talent, brawlers, and skilled storytellers to make a fantastic match out of the first War Games match in a long, long time.
There is quite a few interesting dynamics going into this match: How will Roddy and the AOP mesh? How will the cowardly heels, the Undisputed Era, get away from two much bigger teams inside a steel cage? Will we see any teams working together? How will a team like SAnitY hold up in this chaotic environment? Will Paul Ellering play into this match, as he has in the past on the rare occasion?
SAnitY doesn't need the rub here, as it serves little purpose with them holding the belts. They can take a loss here to help create a new tag team feud. I can see Roderick Strong costing AOP the match, keeping the Authors looking strong without taking a pinfall before they move up to the main roster, hopefully. I realize Roderick getting pinned isn't ideal, but there are a ton of ways to keep him from looking really dumb in this match. Ahh, the beauty of War Games.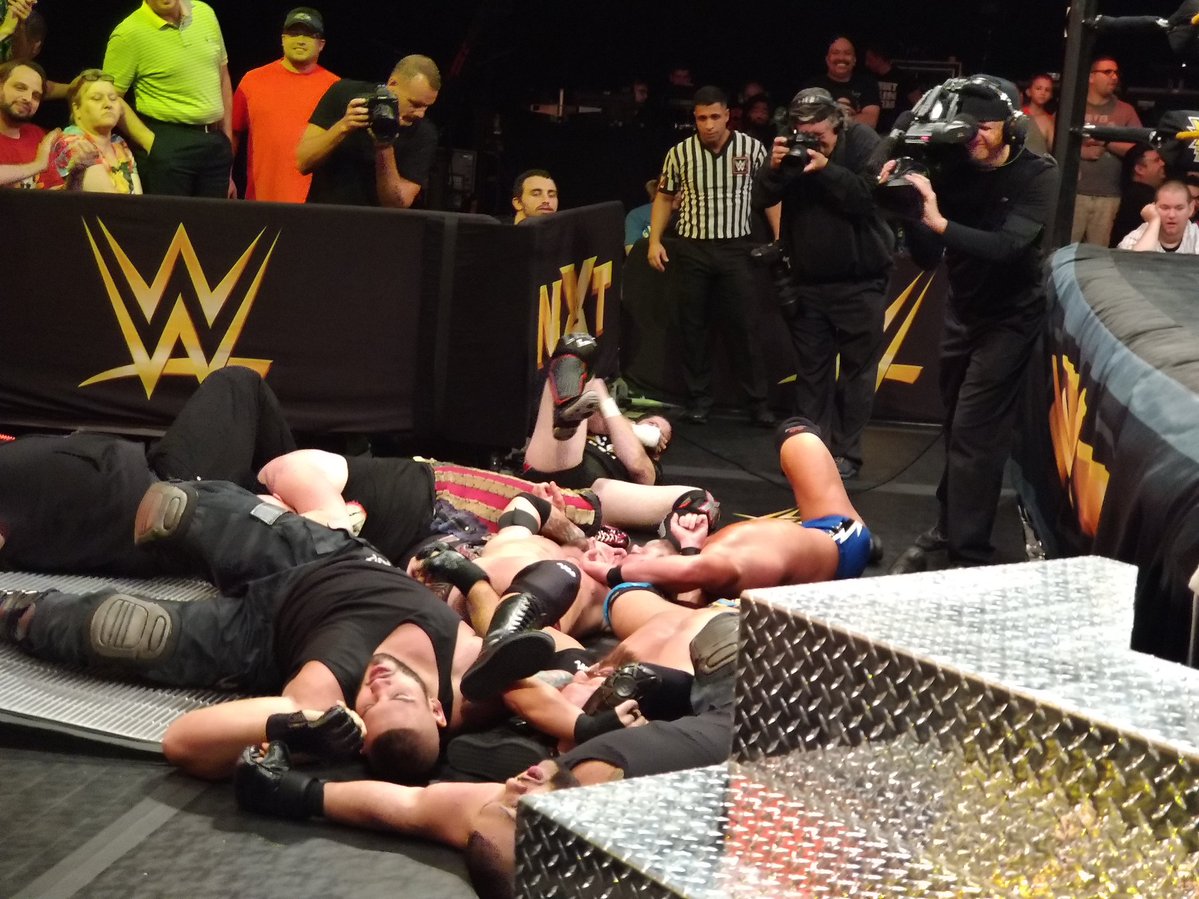 NOW ADD ANOTHER RING AND A STEEL CAGE AND WE'RE IN BUSINESS PEOPLE
Undisputed Era stands to gain the most by winning this match. In their first Pay Per View match together in WWE, I can't see why they would take a loss here. Sanity takes out the Authors Of Pain, and Adam Cole (BAY BAY) pins Eric Young or Alexander Wolfe to win the first War Games in NXT history. In my ideal booking, this leads to a ReDragon vs Sanity feud for the Tag Team Championships, a call up for the Authors of Pain, while Adam Cole starts to work his way into the NXT Championship picture.
This is exciting.
WINNER: The Undisputed Era wins War Games by eliminating SAnitY last, after SAnity takes out the AOP + Roddy.
That's all folks! All in all, this will be a fantastic show, even while missing a few notable faces. Feel free to send me your thoughts and opinions, or if you just wanna chat @Parkman15Love .

NXT Takeover: WarGames - Match Card and Predictions