When it comes to line-up creation, a user can deploy just about any kind of strategy. Some of these strategies can come with no rhyme or reason, and others can be developed through a statistical approach. Daily Fantasy provides that flexibility and freedom that season long fantasy platforms do not.
To be successful on platforms such as Draftkings and Fanduel, one must aware of variables such as:
Home/Away/Opp splits
Line-up changes
injuries
trades
suspensions
hot/cold streaks
important dates, such as the trade deadline or All-Star break
assigned salary.
This Line-Up preview will try to explain the method to my madness. Keep in mind, what works for me when it comes to line-up creation may not work for everyone else.
For those who aren't familiar with Draftkings: A user is given $50,000 to create a line-up such as the one below. Each player is given an assigned salary. Said salary is adjusted daily and is based off past performances, opponent match-ups and line-up combinations amongst other things.
Centers
When it comes to drafting centers, there is a number of variables to be addressed and examined. The main variable I'm looking at tonight is splits, more specifically, a players production against their opponent in past match-ups.
Mathew Barzal ($6,600)
Normally, I rarely spend up on centers as they get plenty of exposure via special teams (powerplay, penalty kill). Barzal was a lock for me at center the second I looked at the slate. Barzal has 10 points in 10 games (4 being on the PP) and has chipped in 22 shots. However, Barzal's stat line from the last 10 games isn't what sold me. The selling point was the production from the last 3 match-ups against the Rangers. Barzal has 3 goals and 3 assists along with 7 shots which equates to an average of 9.3 DKP's. Barzal's pricing for tonight and past performances against the Rangers makes him impossible to pass up on.
Ryan Johansen ($5,500)
When it comes to this pick, it sort of played out as a filler. It was my last selection and the center's priced around Johansen weren't appealing whatsoever. It came down to picking between Johansen, Duchene, or Turris. Duchene in my opinion beats out Turris, but Buffalo has been hot as of late, and the trade rumblings involving the Senators made me shy away from taking Duchene. Johansen has a favorable match-up, the Flames are 20th against opposing 1st line centers. Johansen's splits and past 10-games aren't anything to write home about, but being priced at ($5,500) makes Johansen a very suitable pick. As I mentioned before, this was my last pick, had I dropped further down to a cheaper center or paid up, my whole line-up would have needed to be changed.
Wingers
Match-ups, match-ups, match-ups, this is often the lone variable I look into when selecting wingers. There are plenty of peripherals that go into selecting wingers but I use those as supporting data when it comes to their opponent's rank against position.
Evander Kane ($5,700)
Solid match-up, first line minutes, and first power-play time: All three of these apply to Kane tonight. With Eichel going down for the Sabres, its hard to pick a better player to fill Eichel's spot than Kane. This is where the flexibility and freedom of daily fantasy hockey comes into play. People can say Kane's been underperforming all season, well, yes, Kane has underperformed, but Kane has also been playing on the third line with minimal power-play time up until now. Kane has put up 2 goals and 9 shots in the past 4 games after being moved up, 3 of the 4 games have been against play-off contenders. Picking Kane was 80% potential and 20% statistical. Tonight's game against the Rumor mill Sens should provide Kane with plenty of opportunities to cover his $5,700 salary.
Yanni Gourde ($5,600)
Its hard to construct a roster without a single Bolts player on it these days. Gourde was my second pick when it came to developing my line-up this morning. Detroit ranks 27th against opposing first line wingers which helps push the envelope for Gourde. Gourde has 12 points in his last 10 games, 4 of which came on the power-play, where Gourde plays alongside Kucherov and Stamkos. The only thing that worries me about Gourde is that Tampa deploys him as a net-front presence. Stamkos and Kucherov do the majority of the shooting which takes away from Gourde's scoring potential.
Zach Parise ($5,200)
If I had one pick that was based strictly on instinct and hunch, this would be it. This last winger spot was my second last pick and it came down to Parise and Rick Nash, both carrying the same price tag. Parise is finally getting up to speed after missing 39 games due to back surgery. Parise's first couple games back weren't anything spectacular but Parise has been heating up alongside the streaking Wild. Over the past 5 games Parise has accumulated 4 points, and 17 shots which is a good sign. I wouldn't pay anymore than what Parise is priced at ($5,200) as Parise is slotted on the second line and second power-play unit. However, Washington has been torched by second line units over the past 10 games (15 goals).  This provides Parise with a stellar match-up which makes this play very reasonable.
Defensemen
When it comes to defensemen, I always treat them as my value plays. I rarely spend more than $4,500 on a defensemen unless an elite defensemen is significantly underpriced, which happens to be very rare. I often look into defense pairings and look at match-up tendencies and power-play/penalty kill exposure. Selecting a defensemen that has exposure to both will provide for potential for blocked shots as that's one of the scoring categories.
Darnell Nurse ($3,800)
Nurse hasn't provided much scoring as of late, but his peripherals (blocked shots, shots on goal) is what makes him so valuable for his price tag. Nurse has averaged 3.0 DKP's over his last 10 games. I really like the spot Nurse is in tonight against the Golden Knights for a number of reasons: The Golden Knights rank 3rd in shots per game, this provides Nurse with plenty of opportunities for blocked shots, and Nurse has average 5.0 DKP's against Vegas over their previous 2 match-ups. Again, I didn't take Nurse for his offensive abilities, however, I'm aware Nurse has the potential to join the rush and put up offensive numbers as he has before. Having a price tag this low makes it hard not to take Nurse even if the Oilers get blown out.
Alex Goligoski ($4,100)
This is likely my favorite pick on my roster for this evening. Goligoski is riding a hot streak as of right now and it should be ignored. Over the past 10 games, Goligoski has 7 points, 23 blocks, and 15 shots on goal, good for an average of 3.6 DKP's. Why Goligoski over Oliver Ekman-Larsson you ask? Well, dating back to the All-Star break, Goligoski has outperformed OEL in every Draftking scoring category since then. Also, OEL is $100 more expensive, but that matters very little. The Desert Dogs have been playing their best hockey as well as of late, and it starts on the back-end. It would be silly of me to pass up on Goligoski tonight.
Goaltender
To be honest, picking a goaltender is likely the hardest pick when it comes to constructing a roster, it's also generally my first pick since goaltenders are generally the most expensive player on your team. It comes down to who is hot, and who is not. Match-ups play a role but on any given night a bad team can have a good game and vice versa. Nothing is guaranteed in the NHL anymore.
Antti Raanta ($7,400)
The 5th cheapest starting goalie on the slate tonight, with the most favorable match-up on paper. That pretty much sells itself for me. Saving salary is a huge part of the line-up strategy and this has allowed me build the line-up that I have for tonight. As mentioned before, The Coyotes have been playing their best hockey as of late and Raanta has been a key piece to their recent success. What makes Raanta a lock for me is 2 things: Raanta is 4-0-1 at home when an opposing team is playing their 2nd game of a back-to-back, also, The Canadiens are a dumpster fire. I don't think my pick at goaltender needs much more explaining than that. Raanta over the last 10 games holds a 4-2-3 record with a 2.19 GAA and a .928 Sv % which is good for an average of 4.5 DKP's.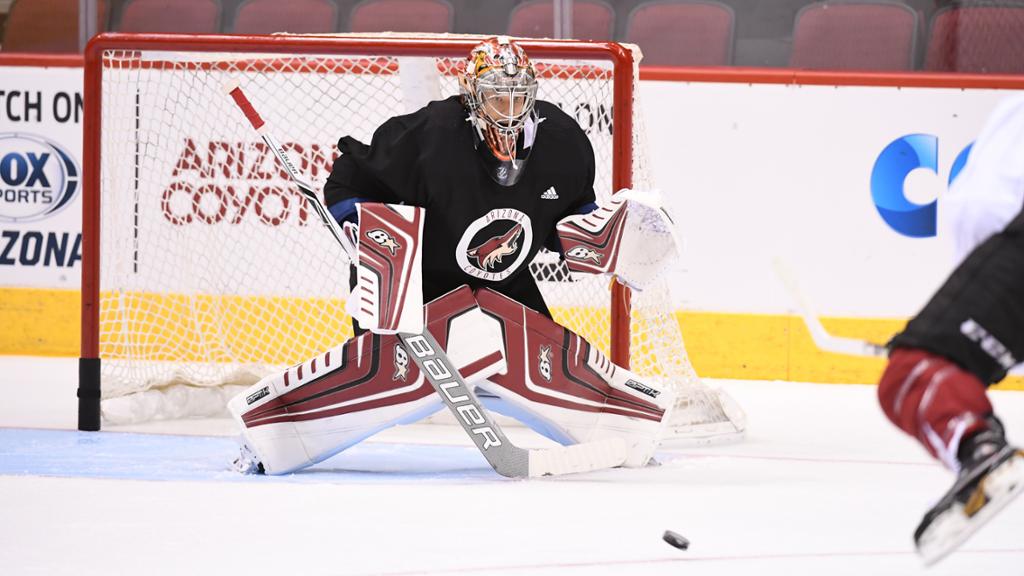 Utility
This position can be filled by any position other than another goaltender for obvious reasons. This is normally where I spend up if I have the resources to do so and have taken a more value approach on the rest of my line-up. However, this morning, I took a balanced approach rather than hoping on a value player(s) to outperform their projections that I have available to me. I rarely ever take a 3rd defensemen unless there is absolutely no alternatives. I would sooner take a 3rd line player over a defensemen.
Corey Perry ($6,000)
If there is one complaint I have about fantasy sports, it's underlying bias. As an Oilers fan, I had the hardest time slotting Perry on my roster this morning. It would be foolish of me not to take a first line winger playing against arguably one of the worst teams in the Western Conference in the Chicago Blackhawks. Perry only has 9 points over the past 10 games, but has thrown 33 shots on net. Perry in my opinion is an excellent pick tonight, Perry is a mainstay on the 1st power-play unit now that he's healthy, and see's first line minutes on top of that. The Ducks should be able to take full-advantage of a struggling Blackhawks squad.
I am not a promoter at Draftkings, but I am an avid fan and user (my username is HurtinAlbertan69). I often play in the games that I offer advice and insight on. Although I've expressed specific views and strategies in the article above, they do not mimic the strategies or players that I will deploy in the slate. I am not an employee of Draftkings (www.draftkings.com) and do not have access to any non-public information. If you have any questions regarding Daily Fantasy, I can be reached on twitter (WCS_BFerg).
5 Most Recent Articles:

2/15/2018 Draftkings NHL Line-up Preview.