One of the most anticipated events in wrestling history takes place on Saturday, September 1st as Cody Rhodes and the Young Bucks (Matt & Nick Jackson) present All In, one of the more groundbreaking wrestling events in recent memory. Plenty have sung their praises about the upcoming Chicago classic, and frankly, why shouldn't they? The three Bullet Club members have drawn a veritable who's who of independent wrestlers to Saturday's event, including IWGP Heavyweight Champion Kenny Omega, Christopher Daniels, Tessa Blanchard, Rey Mysterio, Pentagon Jr, and many, many more. The word is trotted out far, far too often nowadays - looking at you, WWE - but this is truly a history-making event.
Outside of the Rhodes/Nick Aldis match for the NWA Championship, many of the bouts on the card are simply dream matches we wouldn't get the chance to see otherwise. Where else would we get the opportunity to view Kenny Omega take on Pentagon Jr? The short answer - nowhere.
It's hard to oversell the impact that this event is going to have on the industry; however, that's a story for a different day. Today, the Win Column Sports panel make their predictions for Saturday's All In!
The Panel:
The Briscoe Brothers (Jay Briscoe and Mark Briscoe) vs. SoCal Uncensored (Frankie Kazarian and Scorpio Sky)
Spencer: Great, the Briscoe Brothers are here. Makes it an easy decision for me. Prediction: SoCal Uncensored
Prince: This is a toss-up for me. I am a huge fan of both teams, and all four men will deliver to put on a classic tag team bout. I think it would be cool to see SoCal Uncensored pick up the win, but I love me some Briscoe Brothers. Prediction: The Briscoe Brothers
Over Budget Battle Royale 15-person Battle Royale to determine the #1 contender to the ROH World Championship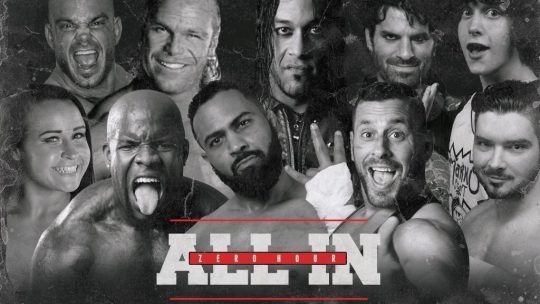 Spencer: Much like the Royal Rumble, I'm abnormally hyped for this match. With names like Jordynne Grace, Moose et al involved, there's truly no poor choice to win. Hell, I'd even be stoked to see Billy Gunn take this one here. There's a number of open slots that could be given some consieration to win; could this be where we see the return of the wrestler formerly known as Neville? While it very well could be - and should he enter, he becomes my pick - but there's an obvious story to be told here with Chicago royalty Colt Cabana. To me, he's the clear best option to win the battle royal and face off with Jay Lethal later in the All In card. Prediction: Colt Cabana
Prince: Don't really care about this match, but there are some nice names in here. I've been following Brian Cage since LU, and apparently, he's doing some good work in Impact. It would be nice to see him over in ROH to further expand his name and brand. Also, I think him vs Lethal would be a nice contrast of styles. Prediction: Brian Cage
Kazuchika Okada vs. Marty Scurll
Spencer: It's a dream match in the sense that you really couldn't see it anywhere else. However, while I'm a fan of Scrull, this really isn't my favourite match on the card. I would have loved to watch Okada take on a high-level superstar and while the Villain is getting there, he's still not in the same stratosphere to me as someone like Christopher Daniels. Will it be a solid match? Absolutely, but I'm still left wanting for something bigger. Prediction: Kazuchika Okada
Prince: This is going to be a sick match. My money is on Okada, but Marty should have a great showing here, and this a high profile match-up for him. Prediction: Kazuchika Okada
Joey Janela (with Penelope Ford) vs. Hangman Page
Spencer: Joey Janela is someone that I'm just starting to get familiar with, and someone I wish I had discovered years earlier. He's a combination of Hulk Hogan and New Jack; someone endlessly entertaining character-wise, while having absolutely no regard for his own safety. He's the Ramones to Hangman Page's Metallica; one takes themselves far too seriously, while the other takes absolutely nothing interesting. I'm far more hyped for this match than I have any right to be, but the contrast in styles between the two makes for an interesting dynamic. I don't have a lot of Bullet Club members winning tonight, so I'll give this one to the NJPW stableman. Prediction: Hangman Page
Prince: Like Spencer, I am also unfamiliar with Joey Janela. For that reason alone, I am going with Hangman Page. Prediction: Hangman Page 
Christopher Daniels vs. Stephen Amell
Spencer: A lot of people have shit on this match, and while I personally wouldn't be upset seeing Daniels face another marquee wrestler, Amell isn't someone to sleep on. His appearance at SummerSlam nearly three years ago still stands as one of the best-wrestled matches involving a celebrity, well, ever. While there's obviously a higher level of risk involved when wrestling a non-wrestler, I wouldn't sleep on this match. As for who wins, as much as I'd love to see Amell steal a victory, I have to go with the actual professional wrestler. Prediction: Christopher Daniels
Prince: Stephen Amell is a TV star who actually gives a shit about pro wrestling. Paired up with one of the best independent wrestlers of all time, I think these two will put on a great match. Daniels can afford a loss and will sell like a million bucks for Amell. Prediction: Stephen Amell
Madison Rayne vs. Britt Baker vs. Chelsea Green vs. Tessa Blanchard
Spencer: Flat out, these women are why I bought my ticket. Both Tessa Blanchard and Chelsea Green have been huge influences on my love of women's wrestling, and I would have been ecstatic if it had only been those two on the card. However, with rising star Britt Baker and women's wrestling legend Madison Rayne involved, this match is truly as must-watch as the headlining matches. If you're not in Chicago, this is fully worth the $40 PPV even outside of the other announced matches. As for the winner? While I would have gone with Blanchard earlier, she's just become the Knockouts Women's Champion and while she's my personal favourite I have to go with my other favourite Canadian. Prediction: Chelsea Green
Prince: This could possibly be the match of the night. It would have been nice to see more female bouts on the card, but this 4 way is going to be so good that I think most fans will be okay with only having one. Madison Rayne is obviously one of the most prominent Knockouts in Impact history and Chelsea Green and Tessa Blanchard are two of the hottest female wrestlers on the independent scene right now. The only competitor I am a bit unfamiliar with is Britt Baker but she's a pro wrestler and dentist, so that's pretty cool! I'm going to go with Tessa Blanchard, as her stock keeps going up in the wrestling world. Prediction: Tessa Blanchard
ROH World Championship match - Jay Lethal (c) vs. Over Budget Battle Royale winner
Spencer: After watching him live for the first time at PWA Night of Champions, I'm just excited to watch Jay Lethal wrestle again. He's an outstanding talent, and regardless of who he ends up facing tonight - looking at you, PAC! - I think he'll head home with his arm raised. Prediction: Jay Lethal
Prince: Like I mentioned earlier, Jay Lethal vs Brian Cage would be a fantastic matchup since both men have drastically different styles. A lighter technical wrestler against a hard - slamming heavyweight is always great, and I think Cage has a unique athleticism factor that can make this match really special. Lethal has been one of the most consistent in-ring wrestlers since 2015, and a victory here will further add to his resume. Prediction: Jay Lethal
Kenny Omega vs. Pentagon Jr.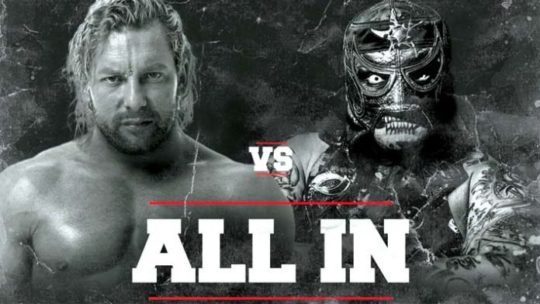 Spencer: Two of the greatest technical wrestlers in the world face off on September 1st as Kenny Omega takes on Pentagon Junior. You're dumb if you don't watch this match. Omega recently topped the PWI 500 list, and Pentagon's stock has been rising since winning the IMPACT Championship earlier in 2018. Simply put, this has the potential to be an absolute classic. While Pentagon would benefit considerably from a win here, there's no way the IWGP Heavyweight Champion takes a loss here just based off the fact there's no way NJPW would let their champ take a pin. Prediction: Kenny Omega
Prince: The best wrestler in the world against the best luchador in the world. Pentagon's stock has risen considerably this year, as he won the Impact championship earlier in the year and has been doing phenomenal work in his feud with Sami Callihan. There's not much to say about Kenny Omega. The man is easily the most popular wrestler outside the WWE and recently topped PWI's top 500 list. The man is a wrestling gem. It's either going to be this or the woman's match for match of the night. Prediction: Kenny Omega
NWA Championship Match - Nick Aldis vs. Cody Rhodes (with Brandi Rhodes)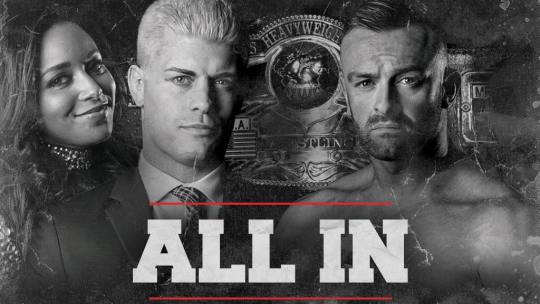 Spencer: The history behind the NWA Championship truly is incredible, and makes this one hell of a special match. Despite people's complaints, Nick Aldis has been a hell of a champion for the revitalized title; however, the championship's place in Rhodes family is nothing short of legendary. Even outside of the wrestling itself - which should be excellent - the impact of watching Cody Rhodes lift the championship his father made famous would be absolutely massive. After the outstanding work that he's put in since leaving the WWE, well, he deserves it. Prediction: Cody Rhodes
Prince: Cody has done tremendous work on the independent scene since leaving the WWE, and that cannot be said enough. What I like most about this main event is that it features the NWA Championship, a championship that Cody's father held in a high regard. Both men are solid workers, and I expect a good main event here. Nothing out of the ordinary, but a solid textbook heavyweight wrestling match with Cody becoming the new NWA Champion and carrying on his father's legacy. Prediction: Cody Rhodes
Rey Mysterio, Fénix, and Bandido vs. The Golden Elite (Matt Jackson, Nick Jackson, and Kota Ibushi)
Spencer: How can you pick a winner? On one hand, you have three of the most respected luchadors in the industry today, including the legendary Rey Mysterio. On the other, you have the Golden Elite, a group consisting of Kota Ibushi - widely regarded as the greatest wrestler in the world - and the organizers of this entire damn event in the Young Bucks. However, with Nick Jackson falling ill a few days ago, one would have to assume that the sickness would be involved in the finish. Could we really see an upset victory to end the show?
Prince: Man. This card is really stacked. Where else are you going to see a 6 man tag match involving these competitors? This match is definitely going to be a spot fest with a lot of high flying action, and that's okay. It's hard to predict a winner for this one because the crowd will be hot for both teams, but I think The Golden Elite win here. After all, they are the ones putting on the event. Prediction: The Golden Elite
That's it, that's all wrestling fans! Are you watching history be made on Saturday night? Spencer will be there - let him know your thoughts throughout the show on Twitter!
Last Five in Wrestling:
All In | Match Card, Preview and Predictions