The Prairie Wrestling Alliance returned to NAIT last evening for Night of Champions, and if you weren't there, you missed out.
I'm not hyperbolizing when I say that it's likely the best show from the PWA that I've had the pleasure of watching; from the opening bell of the PWA Commonwealth Championship match to the event's shocking conclusion, it was simply a well put together wrestling event. It's the kind of event that makes me remember why I love wrestling so much in the first place. From surprising returns to a shocking title change, this event really had it all.
No sense in rambling - I'm Spencer Love with your P.W.A recap!
PWA Commonwealth Championship Match - Shaun Moore (C) vs. Mo Jabari
Fifty days since losing the Commonwealth Championship, Mo Jabari received his contractual rematch against the reigning champion, Shaun Moore. It was a perfect opening match for the evening; Moore has been incredibly impressive in his time as champion, defeating the likes of Duke Durrango and The Titan during his run with the title. He's incredibly smooth in-ring, and is one of the most athletic men on the roster. However, Mo Jabari might be the best-kept secret on the roster. He's a two-time Commonwealth Champion in his own right, and seems to add something new to his arsenal every match. Jabari is flat-out gifted, and I was personally rooting for him to leave Night of Champions as only the second three-time Commonwealth Champion, following in the footsteps of P.W.A Hall of Famer, Dusty Adonais.
The story of the match was Moore's strength pitted against Jabari's resilience. From the start, it was a fairly even match; both the champion and challenger are phenomenal athletes, and it was clear that neither would give the other an inch. An early top-rope crossbody from Jabari looked to have Moore beat; however, the champion was able to kick out just before the count of three.
From there, the back-and-forth action continued. Neither man was able to gain a significant advantage over their opponent, and while there were multiple pinfalls attempted by both competitors, their opponent was always equal to the task and kicked out. However, late in the match Jabari fell victim to Moore's veteran savvy; as Moore lay in the middle of the ring, Jabari attempted another crossbody off the top rope. However, this time Moore was wise to Jabari's plan and was able to shift out of the way. As Jabari lay reeling from the missed attempt, Moore went on the offensive, first hitting Kid Chocolate with a top rope elbow drop, followed by an absolutely devastating superkick/backbreaker combo for the three count to retain his championship.
One thing that was interesting to note - post-match, Jabari immediately extended his arm for a handshake. While Moore eventually accepted the show of sportsmanship, it took a noticeably long time for him to reciprocate the shake. Could they be planting the seeds for a future turn to the dark side?
Ryan Eagles vs. Tiger Ali Saif
Our first competitors didn't even have a chance to leave the ring before Ryan Eagles and Tiger Ali Saif entered ringside in a wild brawl.
Since turning at Adrenalize, Saif has been right at home as a heel. His aggressive style suits him better as a bad guy, and he dominated the early parts of this match. I mean, a large part of that was due to an unseen low-blow, but I digress.
While the man known as King Kong was dominated in the early part in the match, he's tough as nails. After taking an absolute beating, he was able to stay resilient and keep himself in the match. In fact, he was able to use a little bit of turnabout to take down the larger Saif; while Tiger complained (yet again) about what was perceived to be a slow count, Eagles hit him with a low blow of his own. After a Brainbuster, it was lights out for Tiger Ali Saif.
The Slammer vs. The Titan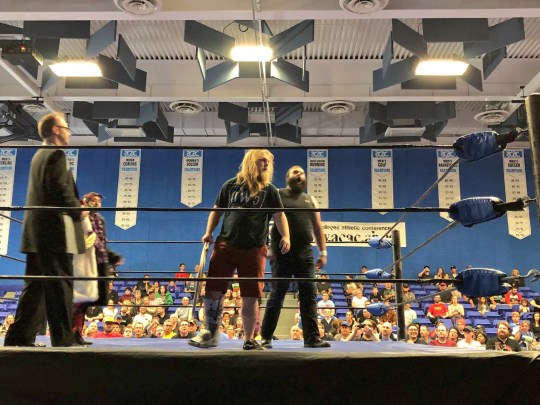 There's never a bad time for a tables match, and especially when it involves two behemoths like these two gentlemen. However, the story of the match isn't the match itself, but what preceded it.
As The Titan made his entrance, he was accompanied not only by Dr. Kyoto, but by Colton Kelly, one of the founders of the Millennial Rebels and former PWA Tag Team Champion. We haven't seen Kelly since he stole Brice "the Slammer" Sova's Mayhem Championship, and he sported a bit of a different look tonight. Besides the fact that he wasn't wearing his usual denim jean jacket - sporting a badass nWo shirt - Kelly was also in a walking boot, which I'd have to assume was caused during Slammer's recovery of the belt post-thievery. Regardless, it was truly great to get to boo him again, and especially after the events caused immediately after his entrance.
As the Slammer made his entrance, chaos erupted in the ring. Referees tried to pull the combatants apart as the fans in attendance attention turned to the brawl that had ensued. As the individuals were pulled apart, they revealed that the surprise assailant was none other than the Thickness! Not seen since PWA 17, Thickness received a huge ovation as he and his former tag team partner brawled out of the gym.
The match itself was an all-out brawl. However, Slammer was working from behind throughout the entire battle, as an attack from behind left Sova laying early. While Titan dominated the match - and this is exactly what I have in my notes - "holy s**t, is Slammer strong". He took multiple chokeslams from Titan, but still was able to avoid being put through a table. As the two brawled on the outside, Slammer used his immense strength to lift the monstrous Titan and deposited him through the table.
Davey O'Doyle vs. "The Omen" Gabriel
Following the defence of the Mayhem Championship, The League's Davey O'Doyle battled "The Omen" Gabriel in singles action. O'Doyle curiously entered the ring with a paper bag.
O'Doyle was without his partner Brayden Parsons on Saturday, and it was my first chance to see the Irishman in singles action. I was thoroughly exited to see him in action, though it was hard to give him much hope facing off against "The Omen"; while Gabriel was certainly not at 100%, it's hard to bet against a guy who'd recently won the first-ever Three Stages of Hell match in P.W.A history.
Early in the match, O'Doyle utilized the prized paper bag that he'd brought to the ring. Upon opening, it was clear that he'd filled it with various vampire fighting objects, including a crucifix and cloves of garlic. While they did absolutely nothing to harm The Omen, they did leave the NAIT main gymnasium with the dulcet smell of Italian cooking which can only be viewed as a positive.
To be quite honest, this was simply a well-wrestled match; Gabriel is an excellent babyface, and while O'Doyle got in his offence he wasn't able to gain an advantage over the Omen for any extended periods. While he was able to avoid tapping out to Gabriel's first Torture Rack, a second one forced the bigger man to tap.
Kat Von Heez vs. Miss Danyah
In the only women's match of the night, Kat Von Heez battled "The Fittest Woman in Wrestling" Miss Danyah
I'd never heard of Miss Danyah prior to tonight, but her nickname certainly holds true. I was incredibly impressed with her athleticism, and she's absolutely ripped. I don't often give Von Heez's opponents a chance, but Danyah looked like she was up to the task.
Von Heez was accompanied to the ring by Bobby Sharp, who would be involved heavily in the match. On multiple occasions he pulled the legs out from under Danyah, giving Von Heez the advantage for the majority of their clash. While Danyah put up a hell of a fight, Von Heez was dominant. It has to be said that she's vastly improved in the ring from my first experiences watching her, and now she's starting to gain the in-ring ability to match her physical dominance. It was proven during the finish; as Danyah looked to put Von Heez away during a burst of offence, Sharp interfered yet again. Von Heez struck quickly; an excruciating variation of the Sharpshooter forced Danyah to tap to the larger woman.
Brandon Van Danielson w/ Connie Blais vs. "Skyflyer" Jeff Tyler w/ Ricky Steamboat
What a match.
It's cool enough when you get to see a legend like Ricky "The Dragon" Steamboat live. However, when it's involved with a match that was this high-quality, it makes it all the more special.
Unfortunately, Steamboat was unable to fulfill his duties as a guest referee, as he's recently been scheduled for hip surgery. However, that didn't stop the Dragon from being ringside enforcer for "Skyflyer" Jeff Tyler for the match, and man was he needed.
As per usual, these two men delivered in spades. I was incredibly impressed with Van Danielson in particular; while Jeff Tyler is well known for his high flying ability, Van Danielson connected on a number of aerial attacks and showcased his athleticism tremendously throughout the match. It was clear that Tyler wouldn't be able to match BVD's strength; however, Van Danielson could more than compete in the air, and that was dangerous for the Skyflyer.
This is a match that I would simply say you have to watch to appreciate; simply put, it was fantastic. Unfortunately, the match was interrupted a ton by Western Lions manager Connie Blais; in fact, she was so involved in the match she forced Ricky "The Dragon" Steamboat to take matters into his own hands. As the referee was distracted, Van Danielson grabbed his branding iron, looking to finish Tyler once and for all. Sensing the impending attack, Steamboat stepped in to the ring and laid BVD down with a series of wicked chops that could be heard throughout the gym. These things were seriously painfull, and impacted Van Danielson throughout the rest of the match. Fortunately for him, that wasn't much longer. Tyler was able to recover and hit a vicious cross body off of the top rope for the pin and the victory.
Sheik Shabaz vs. "The Fallen Angel" Christopher Daniels
Immediately following the break, the PWA faithful were treated to yet another excellent match. This time, Resolution Rumble winner Sheik Shabaz was looking to gain some revenge on "The Fallen Angel" Christopher Daniels.
The two previously met at PWA 17, as the Western Lions faced off against Daniels, Jeff Tyler and Gabriel in the main event of the evening. It should be noted that while Tyler was able to score the deciding pinfall, Shabaz had every right to be upset - he looked to have the victory sealed for his team, yet a distracted referee didn't make the count in time. Shabaz proved that he can hang with a talent like Daniels, and finally secured his shot in singles action.
Early on, Shabaz showcased his power against the smaller Daniels. While the Fallen Angel ran the ropes in an effort to take down the Sheik, Shabaz no-sold every attempt, essentially laughing in Daniels' face. While Daniels was eventually able to take down Shabaz, the Sheik quickly kicked out of every pinfall attempt. Eventually, the size advantage got the better of Daniels, and though he mustered some offence on the Resolution Rumble winner Shabaz dominated the middle portion of the match.
However, Shabaz's cockiness got the best of him. Though he dominated, he was unable to put Daniels away and headed to the top rope looking to solidify a victory. He attempted a moonsault; however, he was unable to connect with the former Ring of Honor champion, missing Daniels and landing square on the mat. From that point on, it was all Daniels. Though he was unable to connect on either Angel Wings or with a BME, he was able to secure a victory over Shabaz, giving the Sheik an 0-2 record against the Ring of Honor legend.
PWA Tag Team Championship Elimination Match - Team Hall of Fame (C) vs. The Above Average Joes vs. Team Flex Appeal
A wild triple threat tag team match preceded Saturday's main event, but I don't think anyone would have been dissatisfied had this headlined the show.
That's not a knock on the actual main event - more on that below - but these guys put on a clinic on Saturday. With three of the most talented tag teams in the independent scene involved, how could it not be? It was one of those matches that I truly couldn't predict, and one that I couldn't have enjoyed more.
The match opened with a brawl between the three teams; when the dust settled, Kenny Stryker and Chris Steele were left to kick the match off. A series of quick tags occurred between Team Hall of Fame and The Above Average Joes; Stryker was the first to exit, tagging in teammate Aiden Adams. While Adams was at a disadvantage against the larger Steele, he was able to take advantage of Duke Durrango being tagged in and gained control of the match. However, as the match neared it's 10-minute mark, Adams set Durrango up for a superplex, and that's when Team Flex Appeal decided to make their first appearance in the match. Michael Allen Richard Clark - who was sporting an excellent new haircut, by the way - tagged himself into the match, and after a brief flurry of offence tagged in Bobby Sharp. There was yet another quick series of tags, which led to Duke Durrango being worked over by the members of Flex Appeal. They worked his left leg through the entirety of their time in the ring - that is, until simultaneous lariats from Durrango and Sharp left each other laying. As Durrango attempted to tag in Chris Steele, MARC was tagged in and didn't allow Duke to tag in his own partner. Instead, Durrango tagged in Aiden Adams, and the members of Flex Appeal and the Above Average Joes battled for a long while. It was fantastic; a superplex from MARC to Stryker, as well as a superkick/Alabama Slam combo from the AAJ's were highlights of their sequence. While I'm a fan of Flex Appeal, the Above Average Joes are outstanding babyfaces; you simply want to cheer them at all times. That's what made it so heartbreaking when they were ruthlessly eliminated by Flex Appeal. As the team went to pin Bobby Sharp, MARC reached in and pulled Kenny Stryker's hair, reversing his momentum and allowing Sharp to roll him up. It was surprising, but speaks to the ring awareness of Team Flex Appeal; it was a unique way to eliminate their opponents, and if I wasn't so damn upset I would have loved it.
However, from that point on I feel like Flex Appeal thought they had it won. From the elimination, Team Hall of Fame dominated Sharp and Clark, only looking to be at a disadvantage after MARC pulled the ropes out from under Durrango on an attempted Doomsday Device. Dirty Duke was able to recover quickly though, and rolled up Sharp to retain their Tag Team Championships.
Post-match, it looked as though Sharp and MARC were at odds; however, after a brief spat the two hugged it out. Thank god - I don't think I could have handled that.
PWA Championship Match - "Gods Gift to Wrestling" Michael Richard Blais vs. Jay Lethal
Quite possibly the best match I've seen in a PWA ring, and that's saying something.
There's simply not enough I can say about this match; it may be a few days, but I'm sure it'll be up on PWA's Youtube channel soon. Once it's there, immediately watch it; both Michael Richard Blais and Jay Lethal decisively proved why they're top guys in independent wrestling. Simply put, this was an excellent match.
As per usual, Blais was accompanied to the ring by Connie Blais, the Western Lions' manager. Though she was a small factor in the match, she was nowhere near as involved as she was during the BVD/Tyler match from earlier in the evening. Van Danielson was banned from ringside for the battle as well, ensuring that both MRB and Lethal would get the time they deserved in the ring.
Both men teased their finishers early; Blais with the Brainbuster, Lethal with the Lethal Injection. Neither was able to strike gold with their big moves, and outside of their initial big spot the first half of the match was simply a hell of a wrestling match. Neither wrestler was able to gain a major advantage; while an eye rake from MRB gave him a slight advantage, Lethal was able to quickly recover for some offence of his own. He set Blais up on a chair and looked to hit him with a lariat, but Connie Blais interfered and allowed MRB to regain his composure. Blais was able to get up and hit a superkick on the former Ring of Honor champion, but again was unable to put him away.
The final portions of the match were fast and furious. Blais' high-flying style came out late in the match, as he attempted not only a superplex, but an elbow drop that the Macho Man himself would have been proud of. However, Lethal's agility allowed him to get out of the way of both attempts, and he answered both maneuvers with figure four leg locks. If it wasn't for Connie Blais' interference, Lethal could have forced the PWA Champion to tap out, but the Western Lions manager was caught placing Blais' foot on the rope and was banned from ringside. However, during the confusion Brandon Van Danielson chose to make an appearance. He hit Lethal with a vicious lariat during the confusion and hit behind the ring. As Lethal writhed in pain, referee Michael "Fitz" Fitzpatrick noticed Van Danielson hiding, and kicked him out of the ring, too. While this all occurred, MRB hit Lethal with a low blow and rendered him essentially useless. It looked as though all was lost for the challenger; however, he was miraculously able to kick out of the Brainbuster! Blais, enraged, went as high risk as he could, looking for a 630 splash. Somehow, someway, Lethal was able to muster the strength to not only move, but recover enough to hit Blais with his third Lethal Injection of the evening!
After one quick pinfall and 364 days, PWA had a new champion in Jay Lethal. 
Or so we thought…
PWA Championship Match - Jay Lethal vs. Sheik Shabaz
We'd all but forgotten about the Resolution Rumble briefcase.
Looking to make a statement after a loss earlier in the night, Sheik Shabaz interrupted Lethal's championship celebration, hitting him with the case containing his guaranteed title opportunity. Immediately, Sheik handed the case to the referee and cashed in his contract!
The fact that Lethal was even able to wrestle after his previous match is a testament in itself. While clearly exhausted, he put up a hell of a fight against the larger Shabaz. It simply wasn't enough, however, and after a devastating Razor's Edge we ended the second PWA Championship match of the evening.with a brand-new champion.
The era of Shabaz has begun as he left #NOC as the new PWA Champion! #YEG #YYC pic.twitter.com/uDBtUHZXRg

— PWA Wrestling (@PWAwrestlingca) June 24, 2020
What an incredible event. Each and every member of the PWA should be damn proud of themselves.
My Thoughts:
One day, Michael Richard Blais will be a star in the WWE, and you better believe I'm going to reference all of these articles when that happens. The guy is incredible, and I'm sure I'm going to say that in every P.W.A article I write from this point forward.
On the other side of the main event, Jay Lethal is scary good in the ring. I've watched him on TV, but it only really gives you a glimpse of what the guy is capable of. It was my first time seeing him live, and I won't miss another event he's at.
I have all the respect in the world for Shaun Moore, but I'm personally gutted that Jabari wasn't able to pull out the victory here. Again, it has to be pointed out that Moore took quite a while to shake Jabari's hand post-match, and I'm curious as to whether it's the signal of a change in direction for the former tag team champion.
Have to throw in a quick shout-out again for the return of former Over the Top Rope guest Colton Kelly. It was awesome to see him back in the ring, and even more awesome to boo him at the top of my lungs.
On a similar note, welcome back, Thickness! It was awesome to hear the ovation he received, and he's primed for a huge babyface run. I'm really, really excited to see what develops out of this between Thickness and the Millennial Rebels.
It's getting harder and harder to boo Team Flex Appeal; they're just so damn entertaining.
Where do they go from here? I can't see MRB being too happy about Shabaz cashing in; do we see the two begin to feud here? Does MRB look to turn face sooner rather than later? What will BVD have to say, seeing as he wasn't involved in losing his title? Things are exciting, folks!
PWA is back in action in Edmonton on August 25th; you can be sure we'll be there!
Latest P.W.A Content
P.W.A Recap and Reactions: Night of Champions, Edmonton, June 23