"IT'S FINALLY HAPPENING!"
That was the title of the e-mail FC Edmonton sent their database of season ticket holders and fans earlier this week. Whetting the appetite of Eddies fan is the big season-opening road victory in Winnipeg against Valour FC.  By the way, the answer to the trivia question of "who was the first Eddie to score a goal?" is Mélé Temguia. How are the Club and its supporters making Sunday, May 12 an epic event? One of the plans is an FC Edmonton home opener fan march to the stadium.
Let's take at a look at those details and other plans/festivities planned for Sunday.
In case you are not in the FC Edmonton e-mail database, here is the Clarke Stadium plan for this Sunday:
Arrival & stadium access
Stadium gates open at 12 pm (noon)

Ticket office opens at 11 am

Parking opens at 10 am

We ask everyone to be in their seats by 1:15 pm

Join us on the pitch after the game for our famous autograph session
Urban Tavern is running a "Match Day Bus" for fans wishing to grab a pint and do the fan bus experience. The bus LEAVES Urban Tavern at 12:45 sharp! If interested, You MUST reserve your seat HERE!
The River Valley Vanguard (RVV), the name of the Club's Supporters Group, have a slightly different plan focusing on the aforementioned home opener fan march.  They have provided these details in three different languages for their English, Spanish and French speaking fans:
NUEVO LUGAR

En el Domingo antes del partido, nos vamos a estar en el Pint Downtown (109 St. y Av. Jasper), que abierta a las 11:00. Todavía, vamos a tomar los trenes a la estación Stadium para nuestra marcha al Clarke que comienza las 12;30.

Nos veremos!#FCEd #yeg #yegsoccer https://t.co/pb4y6zpkFb

— La Vanguardia (@RVVanguard_es) May 10, 2020
N'oubliez pas dimanche n'est pas un match ordinaire…c'est notre premier match à Edmonton depuis plus de 550 jours!

Célèbrez le retour de @FCEdmontonNow avec la défilé des supporteurs! 12h45 au stationnement de la station LRT Stadium! #FCEd https://t.co/BcXQ7u0EbC

— RVVanguard_fr (@RVVanguard_FR) May 11, 2020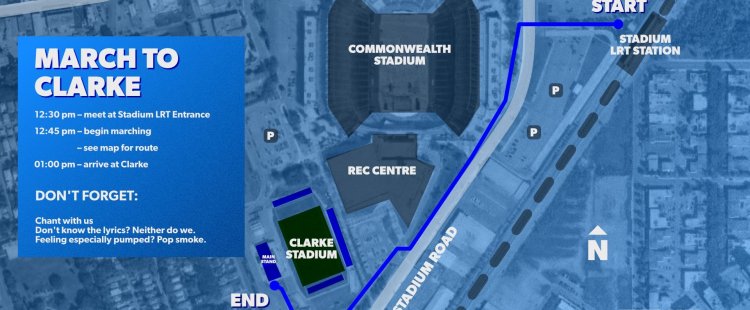 "On Sunday, join us (RVV) at the Pint Downtown on 109 St. off of Jasper Avenue. Open at 11 am. We will be leaving a bit after noon to get to Stadium LRT station for the march to Clarke."
The above graphic shows the planned FC Edmonton home opener fan march route to the game. The meeting point is the Commonwealth LRT Station and it is critical that if you are participating in the march that you are there BEFORE 12:45PM! How will you find the RVV since the lot is so large? Look for the large congregation of folks with flags and drums! There is one very important message to pass along about the march and the game in terms of the use of smoke:
"There has been a lot of issues across the league with smoke on opening games in other stadiums. The city, club and league is still working with us to coordinate this in a controlled manner so please DO NOT bring smoke to the stadium. Also, if you know anyone wanting to bring smoke, make sure they know they can only light it during the march."
The Eddies as a Club recommend taking the train to the game instead of parking. If you are taking the train to get Commonwealth in time for the 12:45 march you must leave the Clareview LRT station by 12:25 PM. Trains run every 15 minutes, if you need help planning your train ride, use their "planner".
You do not need to be a season ticket holder to participate in the march, you only need gameday tickets. Additionally, you don't need scarves, flags and banners to participate, you just need to be willing to be loud. However, you do need to know all the words to all the chants - I don't and I'm a season ticket holder. All the festivities leading up to the game, including the march, are a celebration of soccer being officially back in Edmonton. You cannot celebrate wrong, as we all have the same two goals in mind. One: show the world Edmonton is a passionate soccer city. Two: see an Eddies win!
If this is your first game, HERE is a link to some previously recorded songs done by the voices of your FC Edmonton supporters. To paraphrase my personal favourite and get a catchy tune stuck in your head until I see you tomorrow:
(sung to the tune of "You Are My Sunshine")
"You are my Eddies, my only Eddies
You make me happy when skies are grey,
so please don't take my Eddies away"
FC Edmonton Home Opener March Sunday May 12