The Superstar Shakeup has come and gone. While NXT's roster is still ridiculous, mainstays have made their long anticipated debuts on the main roster. Names like Andrade "Cien" Almas, Drew McIntyre, SAnitY, The Authors of Pain, Ember Moon and the Iconic Duo (IIConics now… ugh) have made their long overdue debuts. However, it leaves room for other talents to step up to the plate - and it's not like the man with 3 H's has nobody to turn to. NXT now has a fresh start, with virtually every main title needing a new #1 contender in a few short weeks. New Orleans has come and gone, but Chicago will be here before we know it.
As always, I'm @Parkman15Love with your Spoiler-Free NXT Preview for Win Column Sports!
Note: Spoilers are available here on Win Column! Read at your own risk! 
First, a recap of last weeks episode:
Kairi Sane defeats Lacey Evans.
A whole mess of Video Packages of debuts & New Orleans results.
War Machi… I mean, War Raiders destroys everyone involved in the long-awaited Heavy Machinery vs Sabatelli & Moss contest.
A somewhat disappointing episode, excluding the debut of Hanson and Rowe. I'm personally amped to see these guys in NXT.
The Main Event
Hoss fight.
For weeks, Lars Sullivan and Killian Dain have been wanting a match with each other. Tonight, we get it - with No Disqualifications. My only problem is that it's already been announced that SAnitY is getting the call up, so the outcome of this is potentially fairly easy to predict. Looks like a big win tonight for Lars! Killian should make him look like a million bucks here, I'll be a bit disappointed to see him leave without a built up match for these two. However, expect a lot of destruction and some fun shenanigans here!
Other Segments
Johnny Gargano makes his return to NXT as a full fledged employee again, after his huge win against Tommaso Ciampa. WWE.com's official preview is wondering what we all are: what's next for Johnny Wrestling? There are still some money match-ups for him in NXT: Ricochet, EC3, Adam Cole all come to mind, but I can easily see him going up against Aleister Black. One thing of note: the ultimate heel Ciampa has pointed out on Twitter that he didn't lose an official match for NXT. Will he use this to help him ascend to the championship scene?
After a hell of a debut match, Ricochet makes his Full Sail debut. Seriously, how good is this guy? He will print money for this company over the next year. I'm curious about his first major feud: apparently Velveteen Dream is supposed to be among the name rumored to feud with the King of Flight. I, personally, would pay good money to see this match & build.
Scratch that. Velveteen vs literally anyone sounds great. 
Another debut match will happen, with Candice LeRae taking on Zelina Vega. These two have a history together, with Zelina being a constant thorn in the side of Johnny Wrestling. However, Mrs. Johnny Wrestling is quite the in-ring talent as well - and definitely does not like Zelina whatsoever. These two have had a pretty solid few matches in mixed tags, so I'm expecting a pretty solid match between the two.
Finally, WWE is wondering what the War Raiders will do next after their destruction of the aforementioned match. Now, if you haven't seen these two work, definitely check out some of their matches. These two are being positioned as the next hoss group. While great babyfaces, they can definitely pull of a heel/tweener vibe too. I trust Triple H with NXT, so I'm excited to see where they go from here.
The Championship Scene
Wow. New Orleans was just a complete makeover for NXT. 5 former champions moved up to the main roster, but there are some money feuds in the making.
Aleister Black defeated Andrade Almas to become NXT champion in a solid match. The two previous champions, Drew McIntyre and Andrade made their debuts on RAW and Smackdown, respectively. That means NXT needs a new #1 contender - I mentioned Johnny Gargano previously. They can play up the hype that Johnny pinned Aleister if they really wanted - though it may make Johnny seem like a heel - but nobody could deny they wouldn't have a great match - and shouldn't that be what the champion does? Have great matches? However, I hope we begin to see who wants to become the next challenger in the Era of Aleister.
Shanya Baszler is now NXT Women's champion after choking out Ember Moon. If there is one specific part of NXT I'm worried about, it's the women's division. Kairi Sane is great, and Dakota Kai has potential. Coupled with the somewhat surprising decision to keep Nikki Cross in NXT, there are a couple potential challengers to Baszler. Beyond that, it seems kind of bare bones. I'm interested to see where NXT starts to go with the women's division, and if we see names like Bianca Belair and Lacey Evans begin more serious pushes.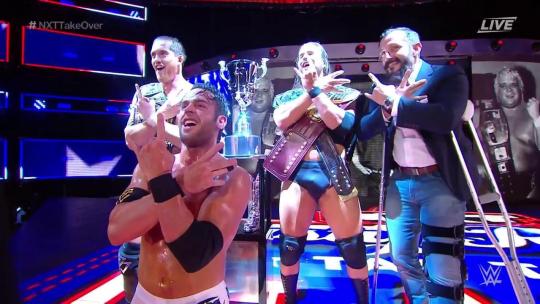 The Undisputed Era had an amazing Wrestlemania weekend. Not only did they retain their NXT Tag Team Championships , but matriarch Adam Cole won the first NXT North American Championship. The cherry on top was the expansion of the group, with Roderick Strong becoming their newest member. This group is probably the most interesting part of NXT coming out of New Orleans, with Roddy being the most intriguing. However, they have to deal with a really pissed off Pete Dunne, who has already begun recruiting his buddies to help him out. British Strong Style vs The Undisputed Era has already been confirmed for the UK Tournament again. That should be decent, I guess…
My Thoughts
A big congrats to all talent making their main roster debut's.
From the independent scene: Rumors are starting to surface about Keith Lee and Walter beginning to make their way to WWE.
Who do you want to see feud with Adam Cole for the NA Championship? It seems all the participants are tied up, with the exception of EC3. I wonder where NXT will go with this.
What will be next for Ciampa. I argued he should have won in New Orleans, but here we are. Where does he go from here?
One thought I've had. I think Kassius Ohno could be a great addition to Undisputed Era. Seeing how interesting Roderick has become now makes me wonder what a heel turn could do for the former Chris Hero. At the very least, a heel turn could give him a bit of a spark. I love the wrestler, and I just want more from him.
That's all from me folks! What are your thoughts on NXT's next phase? If you want to talk anything wrestling, tweet me personally @Parkman15Love or tweet us (and follow us!) @WCSportsCA. Thanks for reading, and see you next week!
WWE Last 5!
Spoiler-Free NXT Preview and Predictions: April 18th