Screw Andy Williams, this is the most wonderful time of the year.
We're only a day away from the 2017 edition of the Royal Rumble, emanating out of the Alamodome for the first time in two decades. The Rumble has always been the beginning of the Road to Wrestlemania my friends, which I suppose at this moment makes us the proverbial Dorothy, ready to start the trek to that emerald city that is the Show of Shows.
Now in years past, the Rumble has served as the batter of the disappointment cake of WWE fans everywhere. Essentially, since the unspectacular return of Batista in 2014, the Royal Rumble has been a predictable event with easily telegraphed finishes. I mean, the 2015 edition won by Roman Reigns (who from this point on, essentially has Voldemort syndrome, and will not be referred to by name) is almost universally panned as the worst Royal Rumble match ever. Sadly, the 2016 edition almost seemed to be putting in an extra effort to be worse, with a 47 year old Triple HHH defeating the previously mentioned 2015 winner and making wrestling fans everywhere collectively want to break their own legs in disappointment. Honestly, I don't use the word tragedy lightly, but in this case…
Anyway, we move on.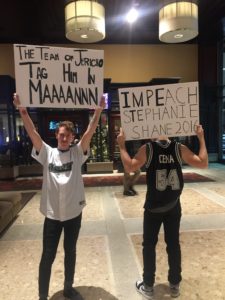 This year's Royal Rumble is a huge departure from years past. With a promising undercard and a Rumble match as unpredictable as one can remember, frankly, I'm titillated (and you should be too).
Let's take a look at the entire PPV, including the pre-show bouts, and make some bold predictions.
WWE Raw Tag Team Championship Match - Cesaro and Sheamus vs. Luke Gallows and Karl Anderson (Pre-Show)
 Let's get this out of the way early: whoever is in charge of marketing, that didn't take the chance to name them "Shesaro" and have Sean Connery introduce them deserves to be severely reprimanded.
In an inexplicable third shot at the championship, the team of Gallows & Anderson take on the Swiss Superman and the Celtic Warrior for the straps in a match that will be contested with two referees. The two referees' stipulation is to ensure the integrity of the match, as for the last few weeks both squads have taken victories with some shenanigans due to interference. The theory then, is that the two officials will allow the match to be contested cleanly and fairly.
Which of course, is just simply not going to happen.
I don't think this feud is finished; not due to anything but the fact that Raw has an incredibly weak tag team division. Even the heralded New Day is reduced to feuding with Titus O'Neil, which frankly, is sad. This match will end in a way that continues the feud, but I'll go out on a limb here.
Prediction: Shesaro retains the straps due to a double pin – each ref counting one.
Nia Jax vs. Sasha Banks (Pre-Show)
For the first time in what seems like a decade, Sasha Banks battles someone other than Charlotte on PPV.
Sadly, I don't think that's going to do anything for her Win/Loss record.
At this point, Nia needs to be built into a monster heel that the women's division is lacking. If I'm Vince McMahon, I'm looking long-term with the two subsequent Women's feuds. Sasha losing to Nia here could start to be the onus for a heel turn; and for those of you who are familiar with her NXT work, The Boss flourishes as a heel. It's a win/win situation for everyone.
Well, except for Sasha on Sunday.
Prediction: Nia Jax wins via pinfall.
Alexa Bliss, Mickie James and Natalya vs. Becky Lynch, Nikki Bella and Naomi (Pre-Show)
 I couldn't be happier with the Smackdown Women's division.
Everyone in this match has a logical storyline, which is a beautiful thing in professional wrestling. Reigning Smackdown Women's Champion, Alexa Bliss, has been feuding with Becky Lynch for months. Mickie James recently returned as a heel after an outstanding return at NXT Takeover: Toronto. On the go-home episode of Smackdown, Mickie explained her actions with a killer promo, subsequently putting over Bliss and giving her a logical reason to be returning after over seven years away. Meanwhile, Naomi had a scheduled match with Natalya, who couldn't compete due to getting her ass kicked in the back by Nikki Bella, who's been feuding with Natty since Survivor Series.
It's a beautiful thing when storytelling makes sense. Does it mean I have any idea who's going to win? No, but I'll go out on a limb here and say they wouldn't have the returning James, coupled with the Women's Champion taking a loss here.
Prediction: Alaxa Bliss, Mickie James and Natalya defeat Becky Lynch, Nikki Bella and Naomi via pinfall on Naomi.
WWE Cruiserweight Championship Match - Rich Swann © vs. Neville
This promises to be one of the best-wrestled main cards in recent memory on a WWE PPV
Neville has been a revelation as a heel since he turned after Roadblock: End of the Line just over a month ago. Going from a run-of-the-mill babyface with a couple cool moves to a jaded, overlooked heel has my vote for the best turn of the year by a man not named AJ Styles (seriously, that guy should have a ceremonial day named after him). His "King of the Cruiserweights" gimmick truly has Neville on the right track, arguably since his move to the main roster from NXT.
At the Royal Rumble, Neville will be aiming for his first Cruiserweight title looking to replace Spencer's Best Friend TM Rich Swann. As a side note, Rich Swann honked at my brother and I at last year's Survivor Series…but that's a story for a different day.
Given the history of these two men as genuine lifelong friends, as well as the talent of both individuals, I can say nothing but that this should be an excellent match. Say what you will about the WWE's treatment of the Cruiserweight division but at the very least, they've known when the right time for a title change has been so far, and with Neville white-hot I see him taking the pinfall victory over the man who's arguably the most popular man in the division.
Prediction: Neville wins the Cruiserweight Championship via pinfall.
WWE Raw Women's Championship Match - Charlotte Flair © vs. Bayley
This potentially could be one of the best-wrestled women's matches the WWE has seen since even before the Sasha/Charlotte series of the last six months. Maybe I'm just too invested, but I've been excited for this match since the Women's Revolution began in mid-2015. Charlotte Flair, daughter of Ric (of WOOOOO! Fame), has taken her father's mantle of the dirtiest player in the game routinely cheating to hold onto the Raw Women's Championship belt. Thankfully, she's also got the wrestling ability to back it up – in this writer's humble opinion, earning the Feud of the Year title for her work with The Boss.
And if you thought that was good, this could be even better.
In this crazy world of alternative facts, there's not much dispute that Bayley is the single best thing in women's wrestling today. Incredibly popular, Bayley earned her nickname as the Heart and Soul of NXT building a connection with the fans at Full Sail University that not even Finn Balor could accomplish. Again, Bayley comes prepared with the wrestling ability to back up the praise, earning the Match of the Year for 2015 with Sasha Banks. Pretty great company, if I do say so myself.
Now, to the match - for me, with this being Bayley's first championship shot in singles action on the main roster, coupled with the New Dirtiest Player in the Game's desire to keep the strap by any means possible, doesn't bode well for Bayley. Add in the almost unbelievable fact that Charlotte has gone 16-0 on Pay-Per-Views, it's hard to predict a win for the Huggable One.
Prediction: Charlotte cheats to win via pinfall and retain the WWE Women's Championship.
WWE Universal Championship Match - Kevin Owens © vs. The 2015 Royal Rumble Winner
Ugh.
All I can say about this feud is thank God for Chris Jericho, because otherwise, the build to this match would just be borderline offensive.
Kevin Owens is a spectacular wrestler. His character work is some of my favourite on the roster, and frankly he's probably one of my top 5 wrestlers to date. His friendship with Chris Jericho has been easily the most entertaining part of this entire feud by a country mile, and it's somewhat because of the two's incredible chemistry, but mostly because the way this feud has unfolded has been about as interesting as a wet carrot. The 2015 Royal Rumble Winner has reverted back to trying to speak words into a microphone, a decision that I would describe as "catastrophic." I've also watched this exact same match 12 times already between Monday Night Raw and prior PPV's, without the stupid stipulation that Y2J is hanging above the ring in a shark cage. Frankly, I wish that this feud had already just moved on by this point, but at the very least, they'll put on an entertaining match. Here's to hoping that the tradition of the loser of the go-home episode of Raw wins the PPV match.
I swear to God if this feud continues I will personally papercut myself and stick my hand in a bowl of seawater.
Prediction: Kevin Owens retains the Universal Championship due to interference from Y2J
WWE Championship Match - AJ Styles © vs Johnathan Cena
If you're reading this blog with no information on this feud, stop what you're doing and go enjoy a multitude of great matches and savage promos. There hasn't been anything on WWE TV lately that's gotten me as excited to be a wrestling fan than this feud. Frankly, it may just be the best work of Cena's career, and that's saying something.
I hate John Cena, the wrestler. But goddamn, I love John Cena. There's nothing this guy can't do, and I'm fully willing to admit that, even as someone who despises him. He's been on one of the hottest streaks of his career lately, even reverting back to his "Doctor of Thuganomics" gimmick at times and genuinely embarrassing anyone on the mic that he comes in contact with. Combine that with the fact he's been putting on some of the best matches of his career, and you can see why I'd be excited. It's almost as though no one could be better than him right now.
*Cues the dramatic music*
Alright, maybe I didn't need dramatic music because I don't have much to say. AJ Styles is the best wrestler in the world today. Period.
As far as my prediction goes, Cena is currently chasing his record tying 16th WWE championship. I don't believe that they'll coronate Big Match John at an event like the Rumble – this has WresteMania moment written all over it. Besides, Styles still has life left in his title reign and in my personal opinion, they should just create a new championship and give Styles this one for the rest of his life.
Watch this match.
Prediction: AJ Styles retains via pinfall to retain the WWE Championship
 Royal Rumble Match
My God, this is exciting.
For the first time in years, there's no clear winner to the Royal Rumble. As I spoke about earlier, the last three years have been colossal disappointments in the fans, and performers, eyes. Batista has had nothing but questionable things to say about his last entrance in to the Rumble, and the guy won the thing. This year however, there truly is no clear favourite with each of the star-studded cast having a roughly equal chance to win.
And that's simply delightful.
There are a number of story lines to watch for during wrestling's biggest battle royal this year. First and foremost, two men to watch are the Beast Incarnate Brock Lesnar, and Goldberg, who will be entering his first Royal Rumble. At Survivor Series in November, Goldberg stunned Lesnar in 86 seconds marking Lesnar's first pinfall defeat since Summerslam 2012, in which the man with Three H's had to sledgehammer the former UFC champion to the ground.
Again, shocking.
Lesnar will obviously be looking for revenge on Goldberg, who is now 2-0 in his career vs. the Conqueror. Look for them to battle the moment the latter hits the ring with one likely eliminating the other from the Rumble. It's going to be a bloodbath, and it's going to be glorious.
Secondly; this will mark the Undertaker's first appearance in the Royal Rumble match since 2009, where he entered at #16. Anytime that the Undertaker appears in a WWE ring is special and fans have been sure to take note of his entrance. While I believe that 'Taker could be a dark horse to win the match, my prediction is that 'Taker enters late, and is eliminated by his future WrestleMania opponent.
Lastly, Braun Strowman. The individual known as "The Monster Among Men" is genuinely a terrifying individual and ranks first on my list of "people you don't want to meet in a dark alley." Simply with the way he's been presented, I think Strowman could be a strong contender to emerge victorious.
Lastly; one of the fun parts of the Royal Rumble are the surprise entrants. This year, there are fewer spots than ever for surprises but there certainly will be a few. While there are 8 unannounced spots in the Rumble, my focus is on only three; two from the NXT roster (including my pick for the win), and one returning superstar.
Kurt Angle – the latest addition to the WWE Hall of Fame, Angle has repeatedly said that he will not be appearing in the Rumble. Kurt Angle is a liar. He'll be there – call it an extra prediction.
Tye Dillinger – the Perfect 10 is a genuinely perfect person to surprise, and if it's not at number 10, someone should get fired. He's ready.
Samoa Joe – the last NXT champion prior to Shinsuke Nakamura, Joe has laid low since his loss to Nak in a cage match in Australia. The longer one goes without hearing from the monster, the worse it is for everyone else. Rumour has it that WWE has big things planned for the Samoan Submission Machine, similar to the push Finn Balor received prior to Summerslam. Hearing that…
Prediction: Samoa Joe wins the Royal Rumble.
Thanks for reading fans! Stay tuned, as I'll have more excellent WWE content coming your way in the future!
Keep your stick on the ice and your shoulders off the mat!