EXTREME RULES!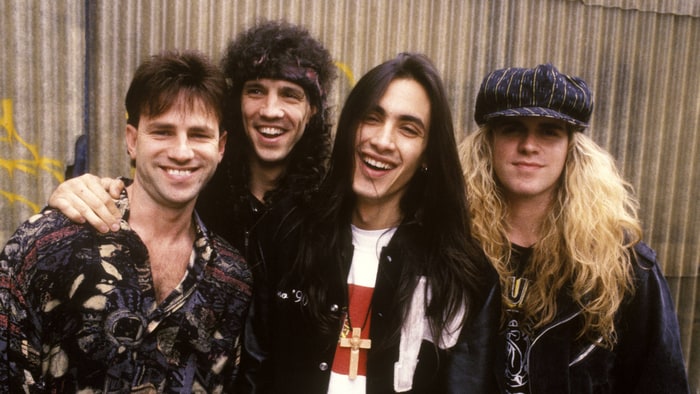 The title of the PPV, or a statement on how great More than Words is? You be the judge.
It's been a mediocre build to the ninth edition of WWE's Extreme Rules. It's fitting that in the lead-up to a PPV that has a number one contenders match, we have a clear front runner for the worst sketch of 2017, and it's not even close. Not even Alexa Bliss could save the "Bayley This is your Life" segment, and that says something. It's universally being decried as the worst RAW segment of all time; again, I stress that this is a show in which an elderly woman has given birth to a hand, Triple HHH has taken advantage of a corpse, and just last year the infamous "Old Day" sketch singlehandedly destroyed The Club. Seriously, watch the clip below at your own risk.
It feels like an audible cross-check to the face
Sadly, the match card does not feature Braun Strowman due to an elbow surgery, or perhaps he's taking time off to continue his responsibilities as the leader of a band of gorillas.
See, this blog is informative as well as entertaining. 
Sunday marks the first edition of Extreme Rules as a RAW exclusive event after last year's brand split. The match card for the event is headlined by a Fatal Five-Way match to determine the No. 1 contender to the perennially absent Brock Lesnar's Universal Title. Additionally, The Hardy Boyz battle Shesaro in a steel cage match, Bayley battles Bliss for the Belt, and, sadly, includes another match featuring Dean Ambrose as your Intercontinental Champion.
But, he's CRAZY!
At the time of this writing, only six matches make up the card – and that's not including the barnburner that is sure to be R-Truth vs. Goldust after the breakup of the Golden Truth. There's sure to be a ton of filler, including a continuation of the "Who Attacked Enzo Amore?" angle. Sadly, we won't see Bobby Roode, which wasn't rumoured but is a damn sad fact regardless.
It's going to be Glorious, guys.
 In case you missed it, I went 6-2 in my predictions for WWE Backlash – but as the Rock would say, IT DOESN'T MATTER – here's my picks for WWE Extreme Rules!
Sasha Banks/Rich Swann vs. Alicia Fox/Noam Dar
As worried as I was about this when it was first announced, I've been pleasantly surprised with this program.
Frankly, with the lack of popularity around 205 Live lately, it initially felt like step down for Banks. As a three time RAW Women's Champion and one of the most talented wrestlers on the roster, it almost seemed as though the Boss was being demoted to the 4th most popular wrestling show on the Network. However, it's been quite the opposite, with talent like Rich Swann and Noam Dar being elevated due to Banks presence. Both are delightful wrestlers, and deserve a larger presence in the WWE
Although I'll never claim the same about Alicia Fox
Overall, I'm a bigger fan of the faces, and I'll give them the victory here
Prediction: Banks/Swann defeat Fox/Dar
Cruiserweight Championship Match – Neville © vs. Austin Aries – Submission Match
You have to think that this is Austin Aries last shot at the Cruiserweight Championship.
After putting on a series of entertaining matches, Aries has lost considerable momentum since his last battle with Neville. Oddly enough, it was also around that time that TJP got involved in the feud. Coincidence? I think not.
What a heel!
Neville has continued his recent hot streak as the kingpin of the Cruiserweight division. Again, this is despite the fact that TJP is involved in the feud. I'm simply a huge fan of what he's been doing since his heel turn on Rich Swann a few months ago.
I still don't think that it's the time for Neville to have the title taken from him. Who's his next challenger? There's a few names that come to mind, but either way - I feel that the time is up for the Greatest Man that Ever Lived.
Prediction: Neville submits Austin Aries to retain the Cruiserweight Championship
RAW Tag Team Championship Match – The Hardy Boyz © vs. Shesaro – Steel Cage Match 
In a rematch of their battle from Payback, the Hardyz look to end their feud with the Swiss Superman and Sheamus.
I still am in disbelief that the Hardy men are in the WWE. Yes, we all hope that the #BROKEN gimmick makes it way with them eventually, but for now I'm riding high on the nostalgia wave. It's also nice to see Matt finally getting some of the accolades he deserves; this truly is the first time he's been seen on the same level as his younger brother, despite being an equally good worker and likely more creative character worker. I mean, his body of work speaks for itself, even outside of #BROKEN Matt Hardy
Although we really do love #BROKEN Matt Hardy
Sheamus and Cesaro, however, have somehow decided that they set the bar for WWE tag team wrestlers, despite having lost their last few matches and not holding the RAW tag team belts for quite some time. It's nice that the WWE can expect their fans to have a short memory.
For me, I don't see any value in keeping the belts on the Hardyz; there are no credible challengers to them as champions, while a shift of the belts to Shesaro can at least shake the division a little. Besides, anything that can open the door for two singles Hardyz runs is exciting to me.
Prediction: Shesaro captures the RAW Tag Team Championships 
Intercontinental Championship Match – Dean Ambrose © vs. The Miz
"The Superstar Shakeup is going to give fresh matchups!"
A visual representation of life laughing at wrestling fans
 I'm so damn sick of this feud, and absolutely 0% of it has to do with the Miz. Dean Ambrose has become the new Dolph Ziggler to me; he's stale, and in need of a massive shift in character shift. I simply can't take him seriously anymore. Either commit to his goofy schtick, or as a serious threat; he can't do both.
Oh, and to top it off? At the Extreme Rules PPV, the stipulation to this match is that if Ambrose gets disqualified, he loses his title. I mean, that has to be the least extreme rule of all time.
Ugh.
Prediction: The Miz wins the Intercontinental Championship by DQ
RAW Women's Championship Match – Alexa Bliss © vs. Bayley – Kendo Stick on a Pole Match
This already has my pick as Most Disappointing Feud so far.
I'm a huge fan of both ladies involved in this, and it started well with Alexa Bliss' championship celebration. But my god, the segment on the go-home show was atrocious. Seriously guys, it's singlehandedly ruined the feud for me. On that note – I think it's about time that we see some new blood in the championship situation here. I don't think that means that Bliss loses the title; perhaps Nia Jax makes her debut as Bliss' enforcer? Either way, I don't think she loses the belt.
Prediction: Alexa Bliss retains the RAW Women's Championship
No. 1 Contender's Match – Roman Reigns vs. Seth Rollins vs. Bray Wyatt vs. Finn Balor vs. Samoa Joe
It's these kind of main events that make wrestling fun.
All five men in this match are excellent wrestlers, and yes, I'm including Roman Reigns in that statement. The winner of this match becomes the number one contender to Brock Lesnar's belt, and all five have a case to be made to be the one to face the Beast.
I won't elaborate much on Reigns here, only to say that I don't believe he'll win. Presumably, he's being primed to face Lesnar at WresleMania 34; I don't see them feuding for nearly a year to set that event up. No one wants that.
No, seriously, no one wants that
As for the other four wrestlers, it's a crapshoot as to who's going to win. On instinct, I don't believe that Rollins will win; I also don't believe that the winner will be Balor. Both those men deserve a title opportunity, but I frankly see the winner of this match going on to be demolished by Lesnar. This leaves two options, and only one has truly been built to be a monster. The other talks about it a lot, and he may win this match, but will continue his streak of losing big-money matches.
Prediction: Bray Wyatt wins to become Number One Contender
That's it, that's all folks! AS always, tweet me @Spennylove or any one of us @WCSportsCA with your thoughts!
Keep your shoulders off the mat!