Out of Left Field
Just when you thought the NBA off-season couldn't get any better, a blockbuster deal unfolded between the top two Eastern Conference contenders.The Boston Celtics agreed to trade Isaiah Thomas, Jae Crowder, Ante Zizic and one of their 2018 First Round Draft Picks, for 4-time All-Star Kyrie Irving.
Initial Reaction
Wow! Up until last month when Irving asked for a trade, this was on no one's radar. And even when it broke, there was genuine surprise. Then there were a myriad of emotional reactions among fans.
Damn im gonna miss the Little guy… i bet Tommy shed a tear

— Brad Auerbach (@CelticsPost) August 23, 2020
Watch: Celtics fans bid farewell to Isaiah Thomas by burning his jersey https://t.co/aF2gCkY2Ka pic.twitter.com/GqINy3yLt5

— theScore NBA (@theScoreNBA) August 23, 2020
This NBA players around the league chimed in as well.
BLOCKBUSTER 👀👀

— Larry Nance Jr (@Larrydn22) August 22, 2020
Wooow. Who wins with that trade? 🤔

— Ricky Rubio (@rickyrubio9) August 22, 2020
Ricky Rubio asked the question everyone has been debating around the office water cooler.
So, Who won the trade?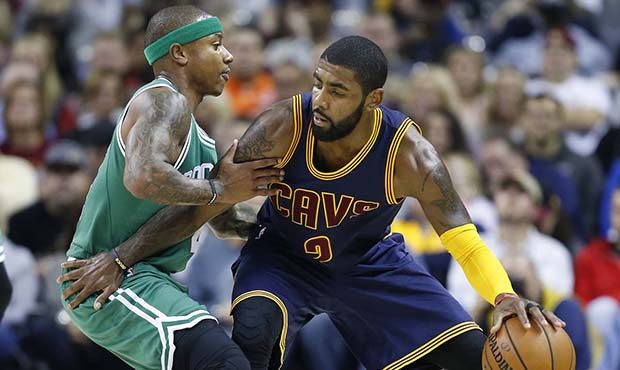 The Cleveland Cavaliers got depth by adding some bench presence in Jae Crowder who can help the anemic Cavaliers defense, which ranked 21st out of 30-teams last year. They replaced the point guard position with Isaiah Thomas and gave themselves future building blocks in grabbing the Nets first round pick, which with LeBron James future in Cleveland murky at best, is needed to move forward.
The Celtics got younger adding a 4-time All-Star and clutch NBA Finals performer in Kyrie Irving. Kyrie Irving is 25, where Thomas is 28. You might remember his clinching shot in Game 7 of the 2016 NBA Finals. He provides the Celtics with a player who can create his own shot at anytime, while along with new comer Gordon Hayward, provides a second consistent scorer, two things the Celtics lacked last year.
Trade Outcome: Celtics Favor
However, while it seems that the Celtics gave up more than they got in return, Zizic and the draft pick are a virtual unknown. It really comes down to Isaiah Thomas and Jae Crowder for Kyrie Irving.
Thomas is recovering from a hip injury he suffered in the Eastern Conference Finals and decided not to have surgery. This was a legitimate concern and the fact he has hinted he wants max money. He is a Unrestricted Free Agent at the end of this year.
Jae Crowder is a good defender but not great and wildly inconsistent offensively. With the acquisition of Gordon Hayward, Crowder looked to have lost his starting role. With up-and-coming players in Jayson Tatum and Jalyen Brown, Crowder also looked to have his minutes drastically cut.
Kyrie Irving is arguably the second best player in the Eastern Conference. He is under contract for two years and a player option for the third. He also waived his 15% trade kicker, which makes one believe he'll be here for year three.
Note: As a Celtic fan, I want to make it clear that Isaiah Thomas gave his heart and soul to the Celtics.His play and grit under extremely difficult personal circumstances in the biggest games last year didn't go unnoticed.
Unfortunately, loyalty is not a premium organizations measure, only championships and adding Kyrie Irving gets themselves one step closer.